Ben & Spirit in the Emanuela Gown

This magical elopement was the perfect utopia of love, bliss and a wild ride of emotions. With the beautiful mountains that carry the Canadian skyline and the flowing river water - it truly was everything Spirit imagined and more.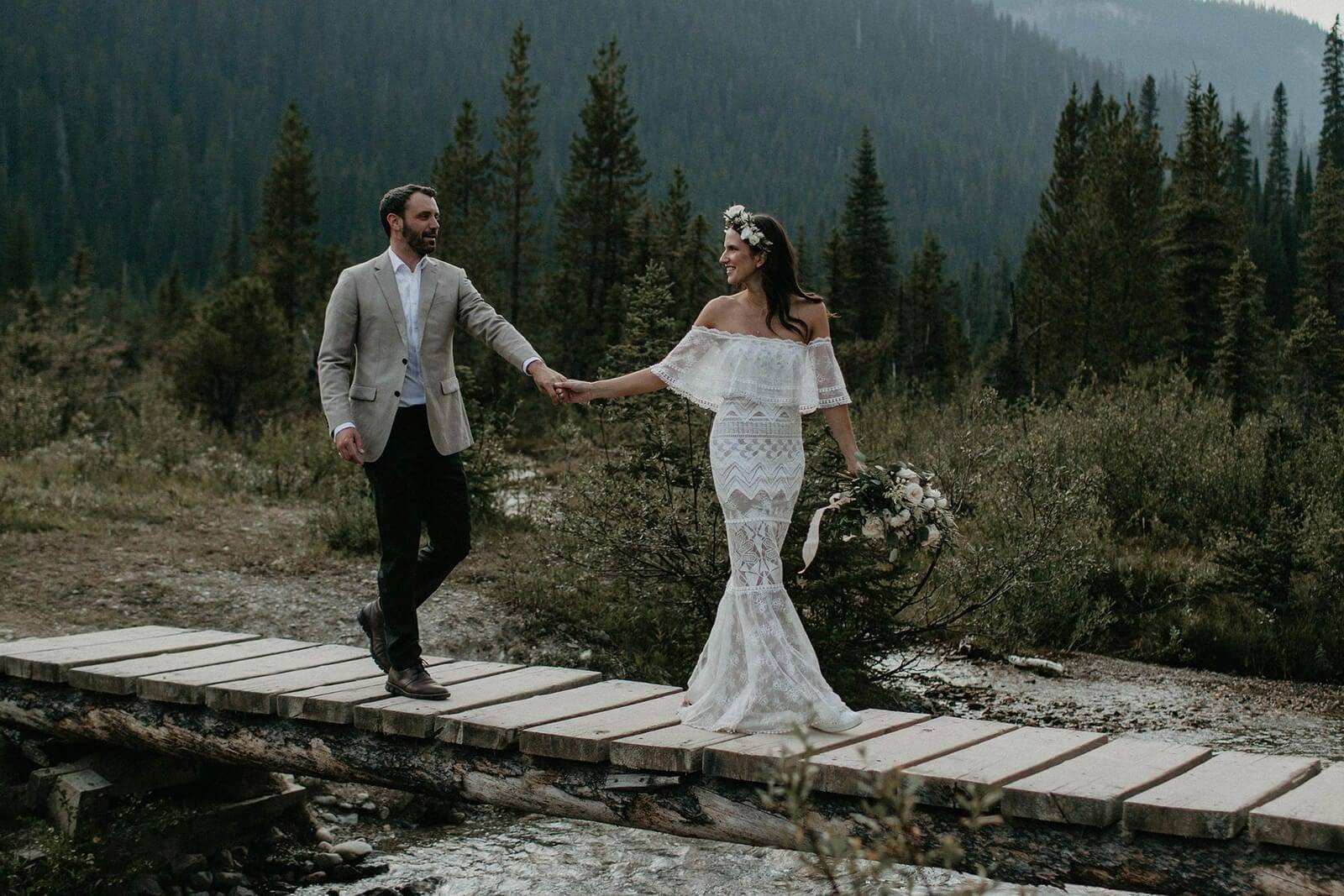 What is a Grace Woman to you?
A badass bride up for some adventure. (Can I say ass? Haha).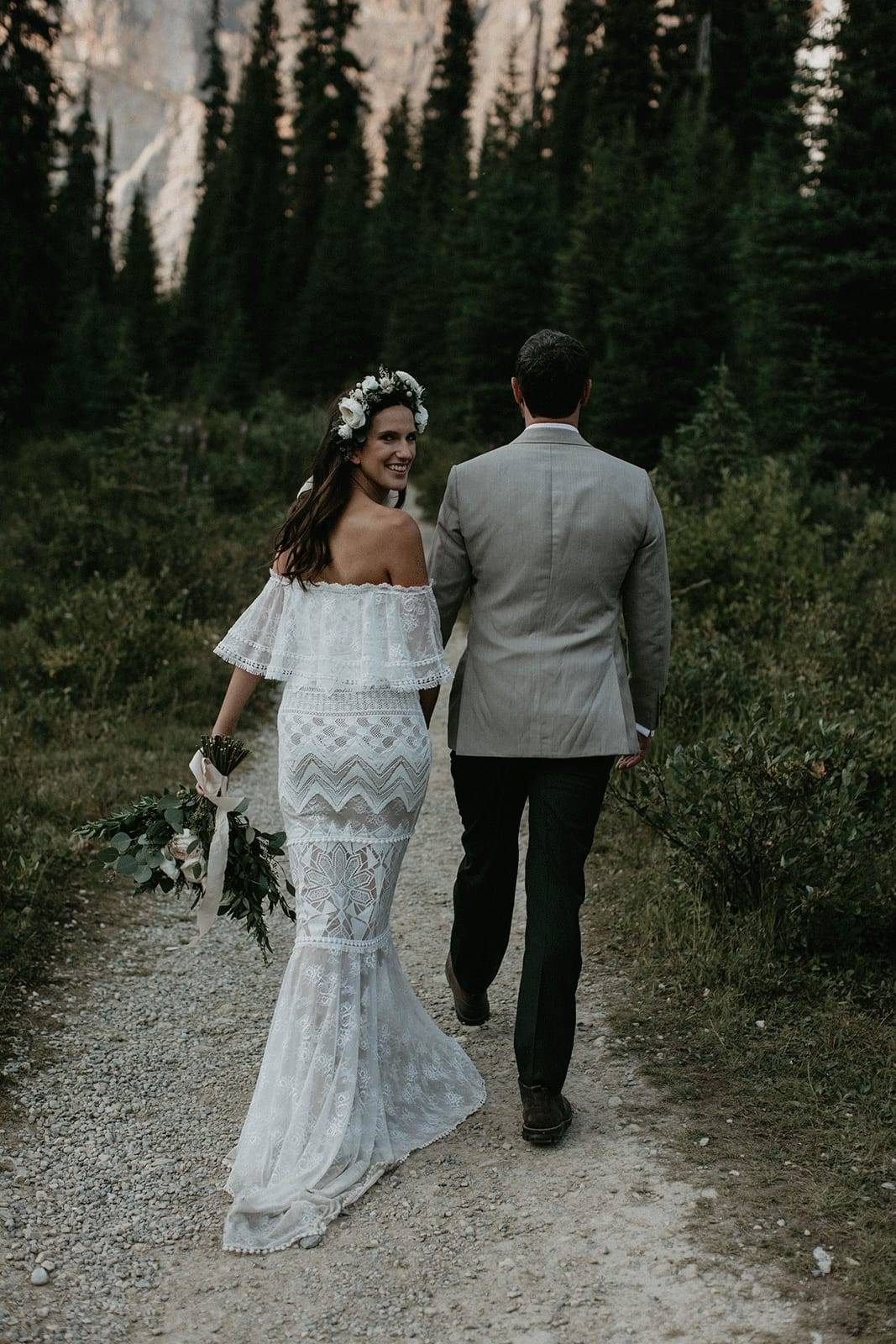 What is it you loved about your GRACE gown and accessories?
Finding a dress that felt like a true reflection of me! My style is more laid back, elegant meets edgy so I wanted to make sure my dress was all of those things. I live in a small mountain town so visiting wedding dress stores was difficult but when I stumbled across the GLL website and saw the Emanuela gown, it was a match made in heaven! The quality of the gown was unmatched, as soon as I tried it on I knew immediately it was well made. I loved the unique lace details and off-the-shoulder fit. I had no issues trudging along the rocky river banks and through the forest (although my lace train did collect a lot of twigs along the way.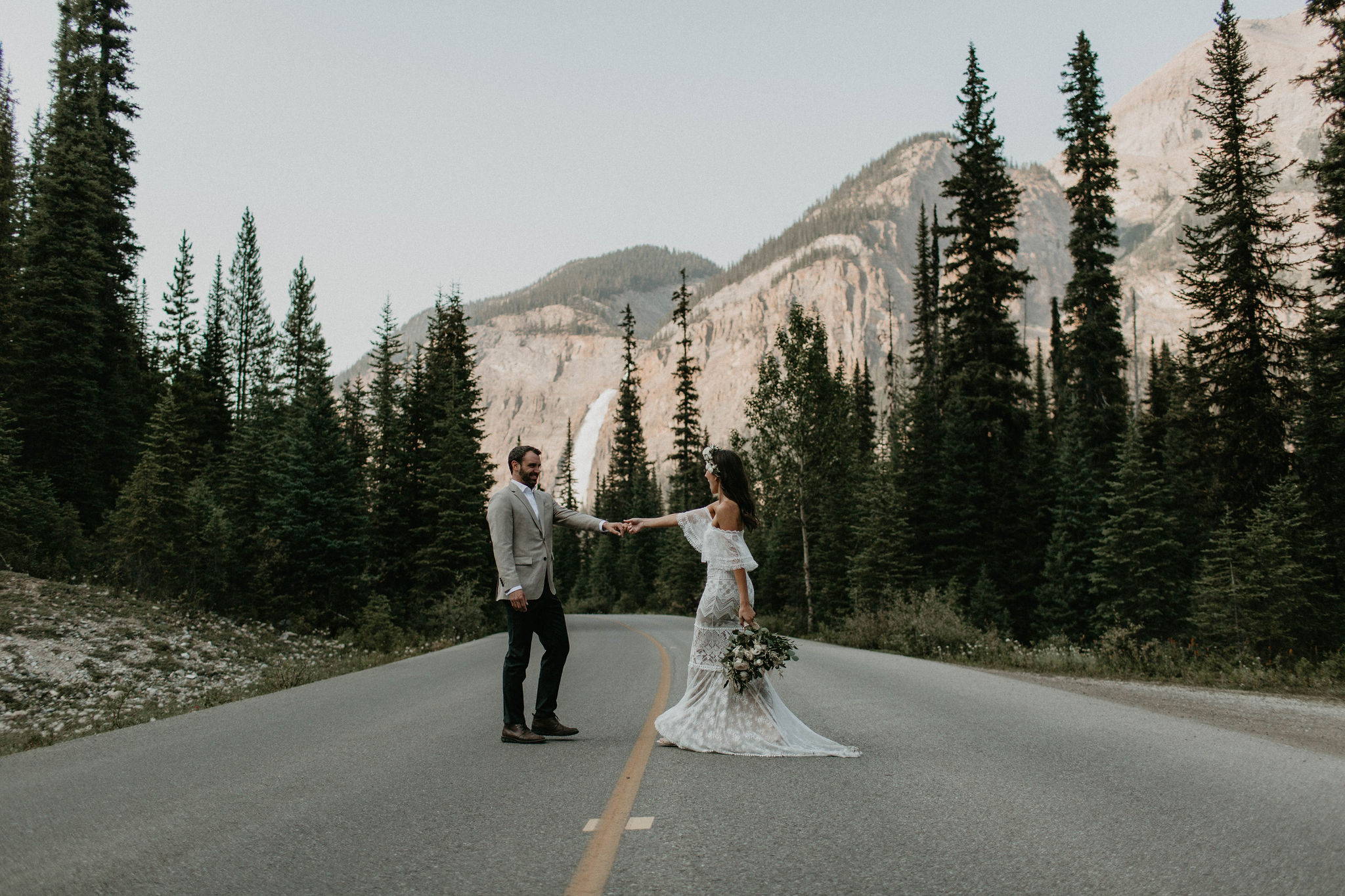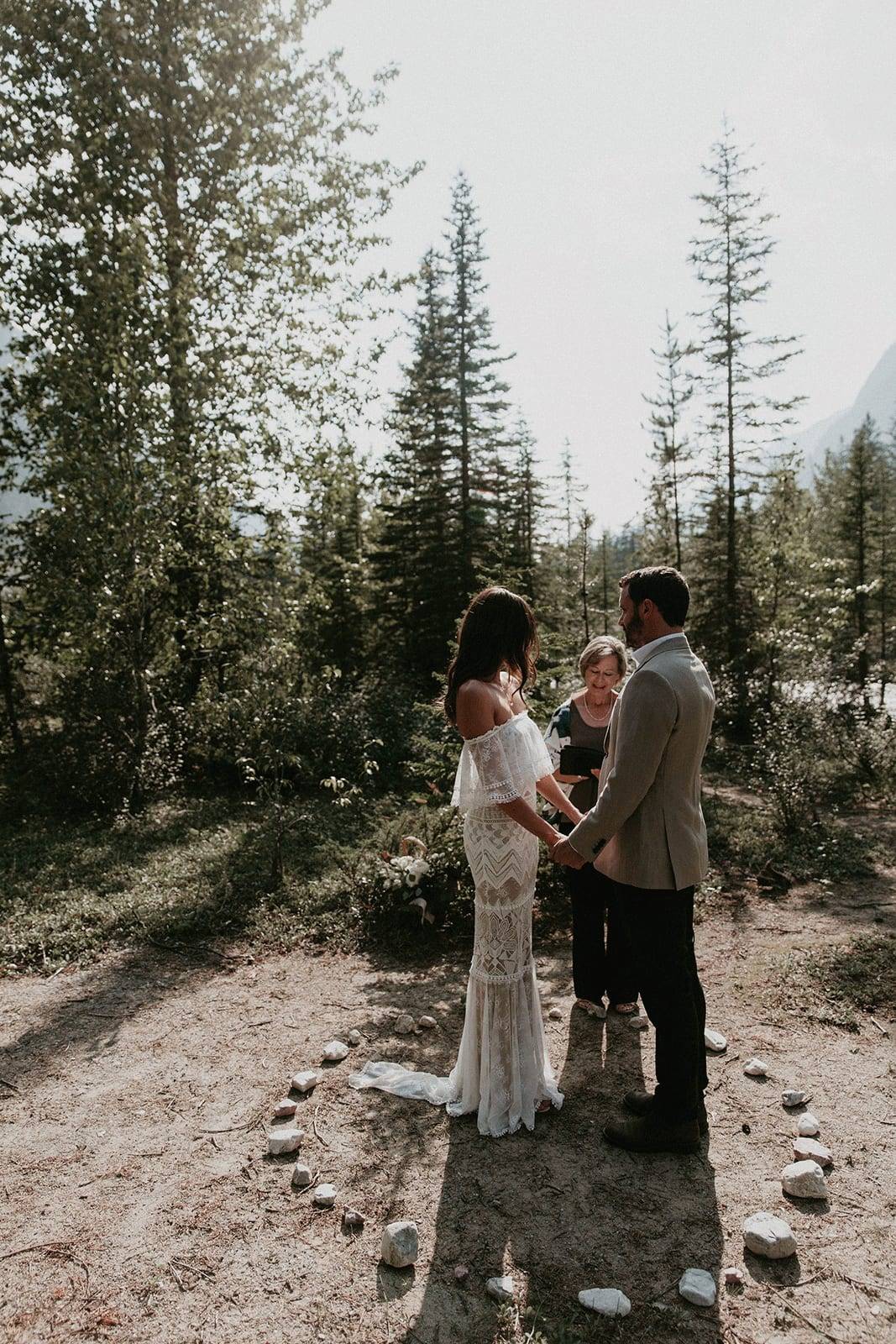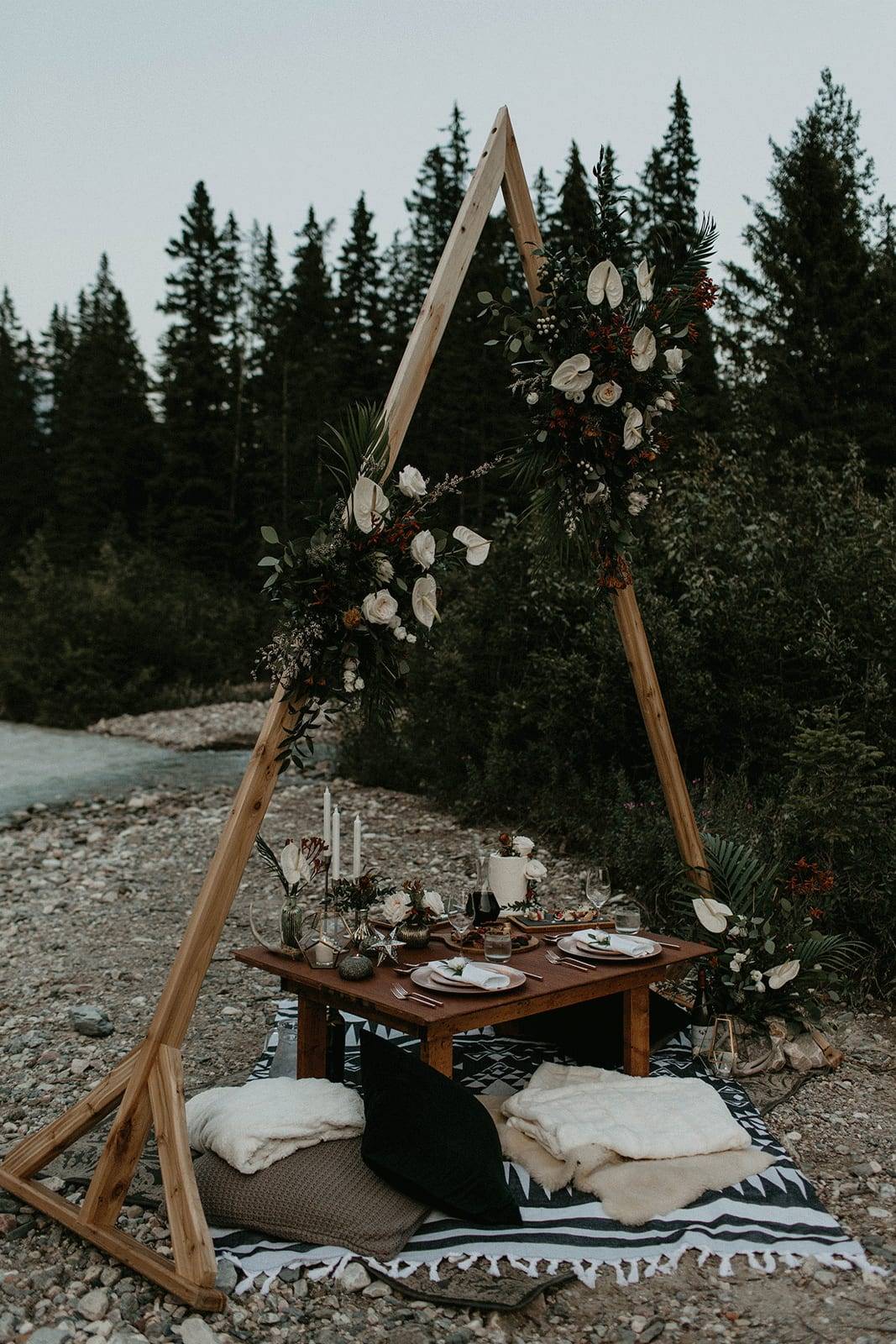 Did you go to a GLL showroom or purchase your gown online? Tell us about this experience.

I purchased my gown online (everybody thought I was crazy) but it was smooth sailing! I had my mum take my measurements, e-mailed them in and ta-da…I had my dress 3 months later. My gown fit perfectly and communicating with the stylists half way across the world was a breeze.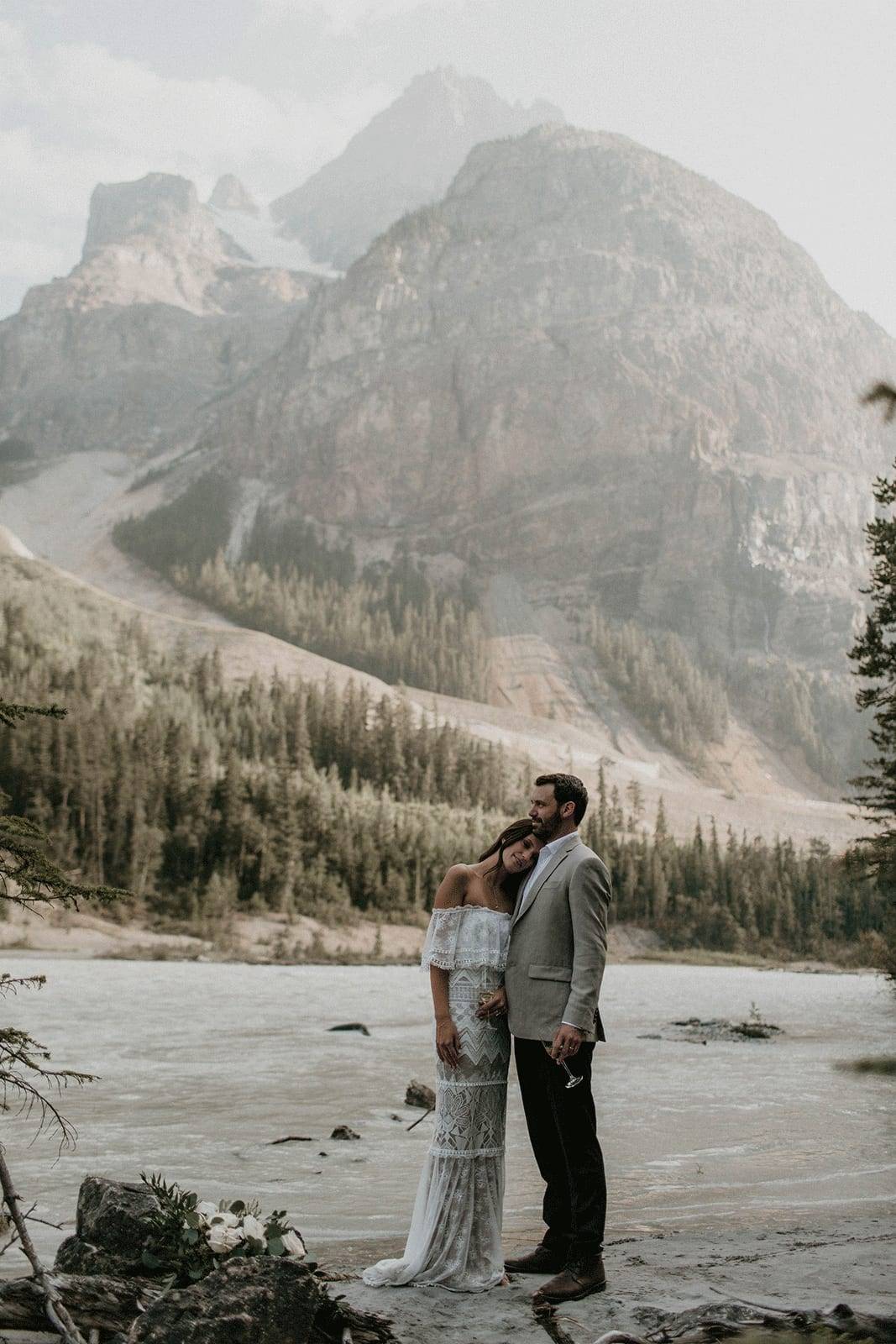 Describe your wedding day look…
Natural, relaxed and bursting at the seams with love.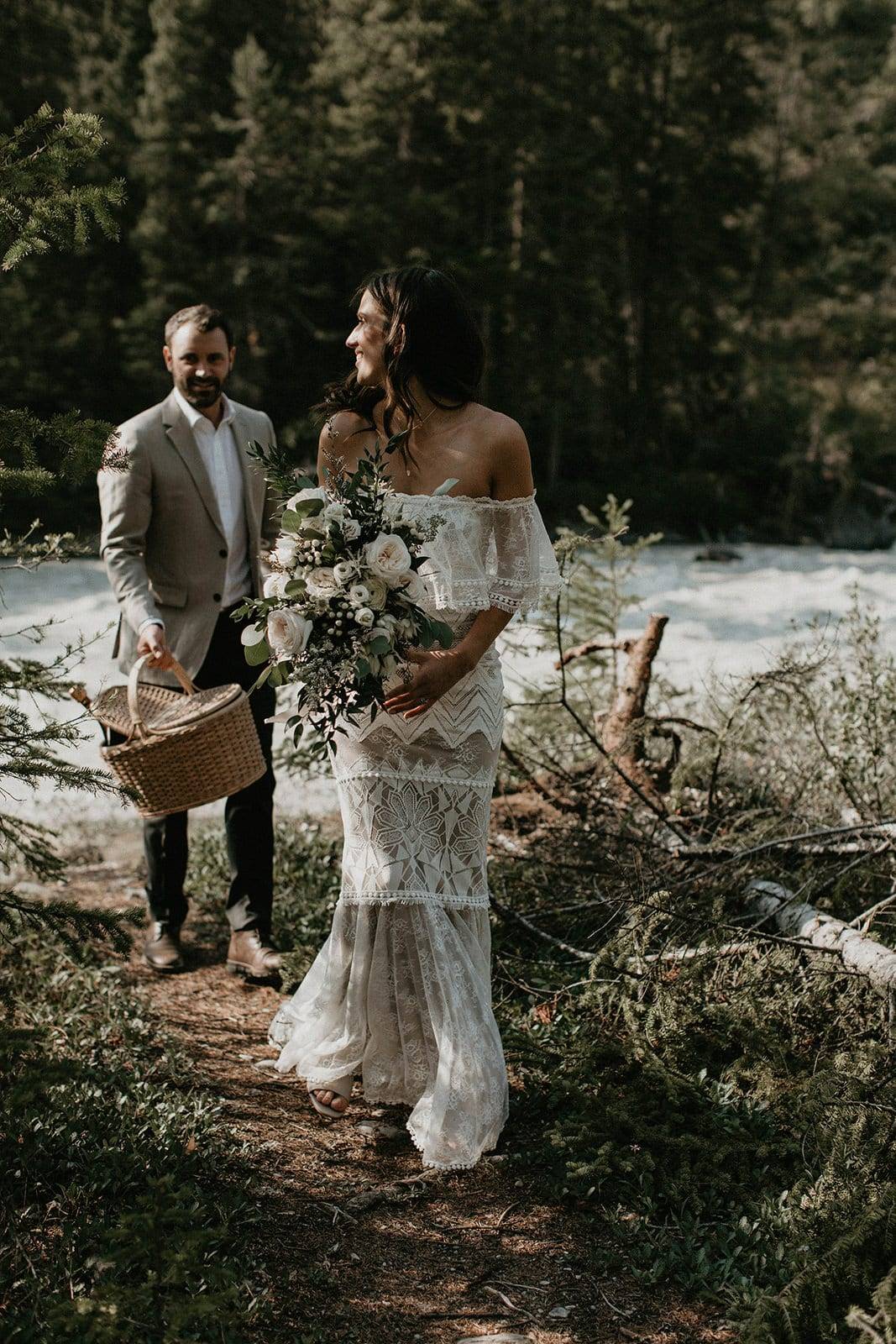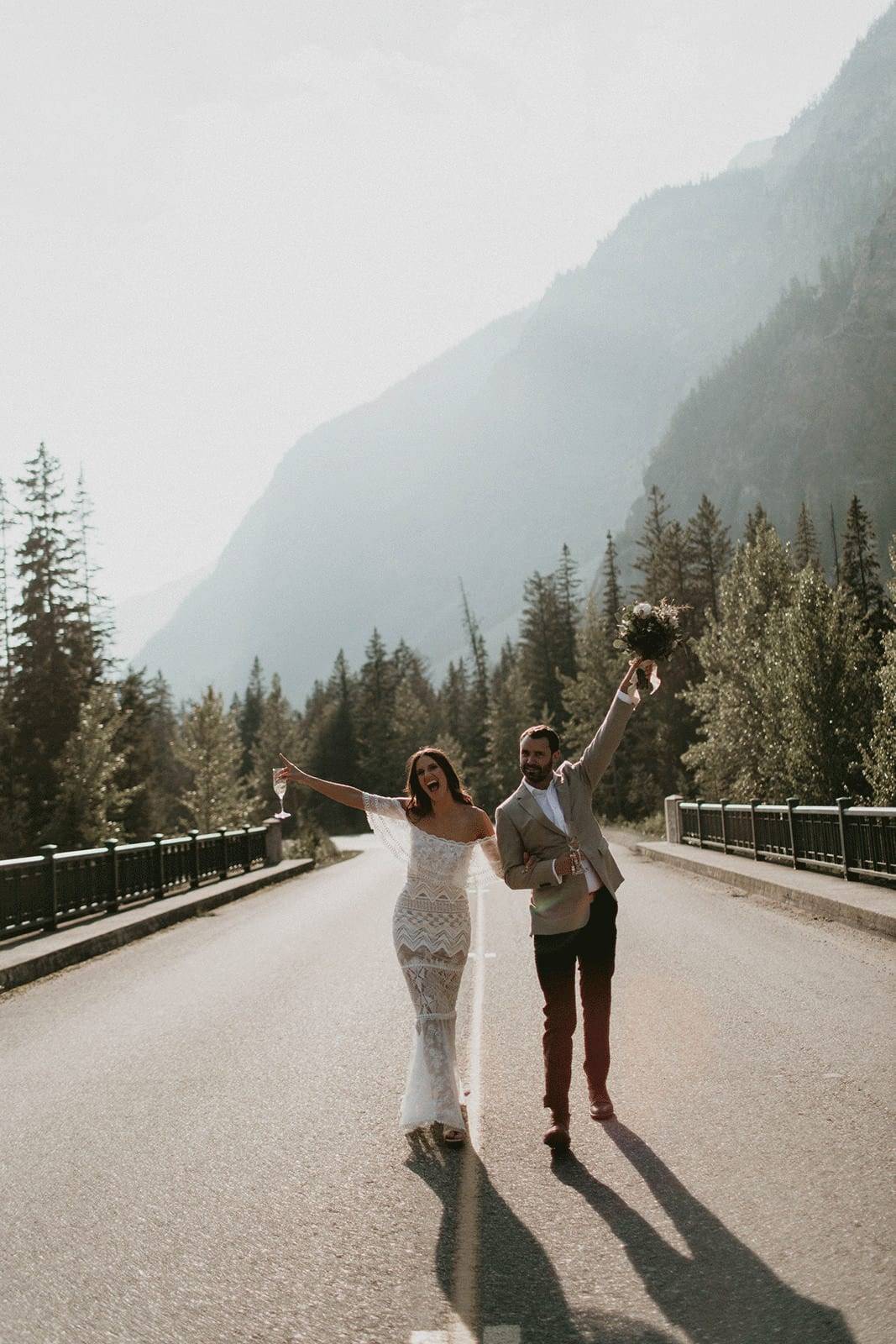 What was your goal for your wedding / what was the most important aspect to you?

I wanted our elopement to be the perfect utopia of love, bliss and wild ride of emotions. A day where we were free to say and feel exactly what we wanted. Neither of us ones for tradition, but we still wanted something unique and romantic that we would remember forever. We created a type of 'progressive ceremony' idea with our officiant which included multiple locations in and around Cathedral Mountain Lodge and along the Kicking Horse River. It was a kind of ode to our love for food and wine and going out for progressive dinners in the city. We wanted to spend the afternoon indulging in one another's love, feeling deeply and taking our time. People always spoke to us about how quickly your wedding day goes by so it was important for us to take moments to reflect, breath in the mountain air and then wandering onwards. I think our ceremony ended up lasting 3 hours!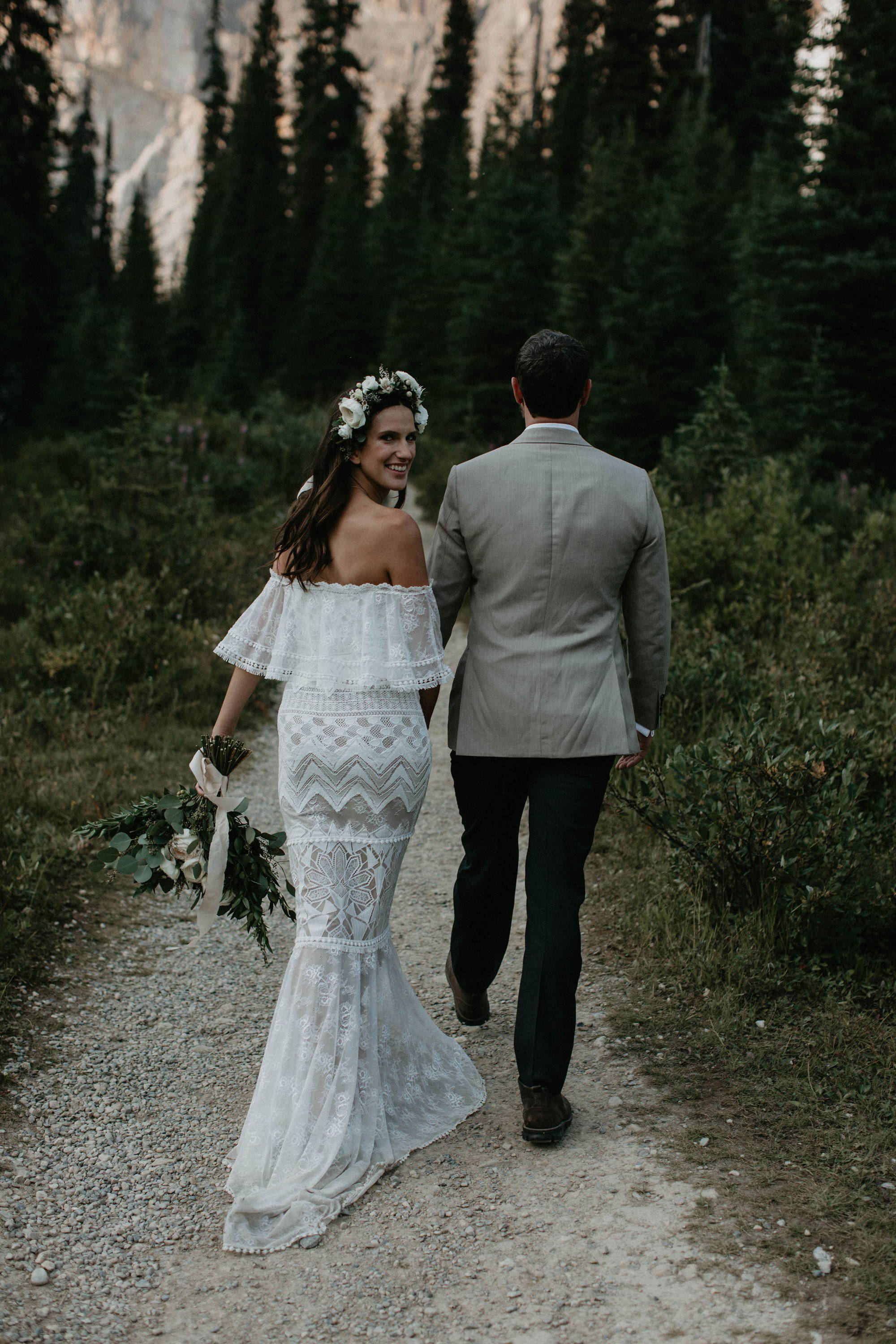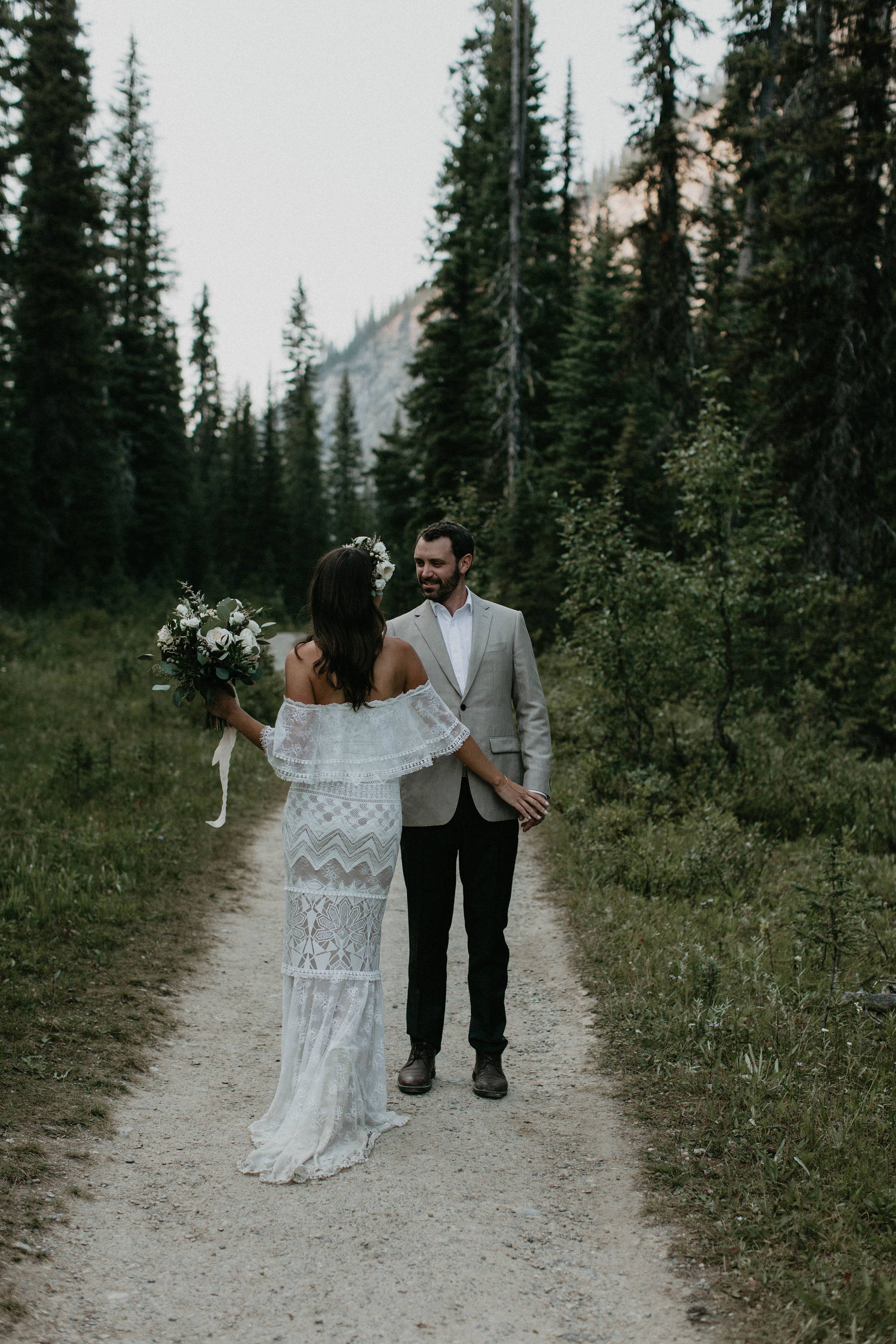 Any top beauty/health/fitness or wedding preparation advice that you can share…

Get a trial hair and makeup done before your wedding day. It was a such a relief not having to think about it on the day of and just have the professional do her thing. My nerves started as I was getting ready, I couldn't imagine having to any decisions or worry about how it turned out. Thankfully my girlfriend Kenna who did my hair and makeup was a beacon of chill vibes!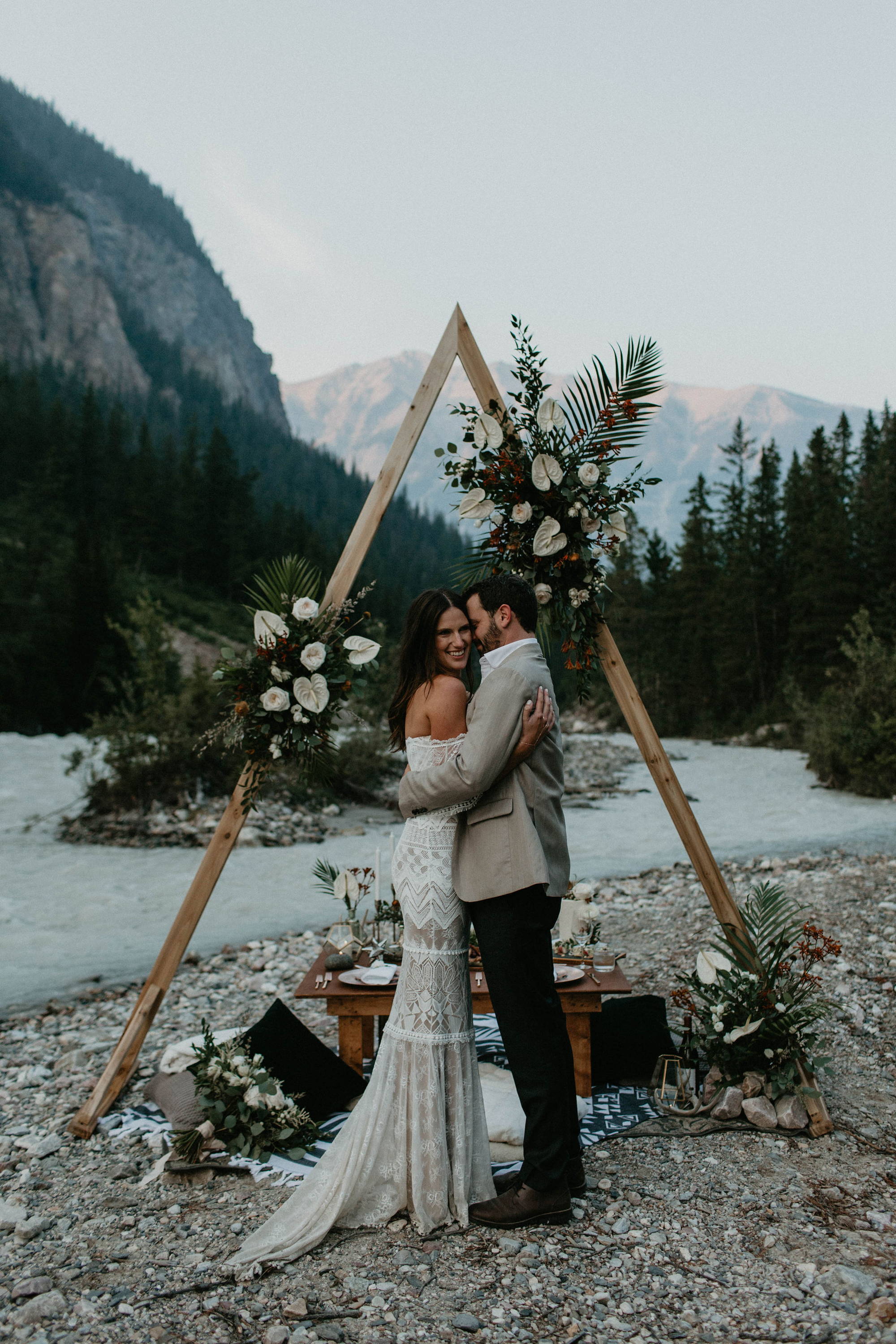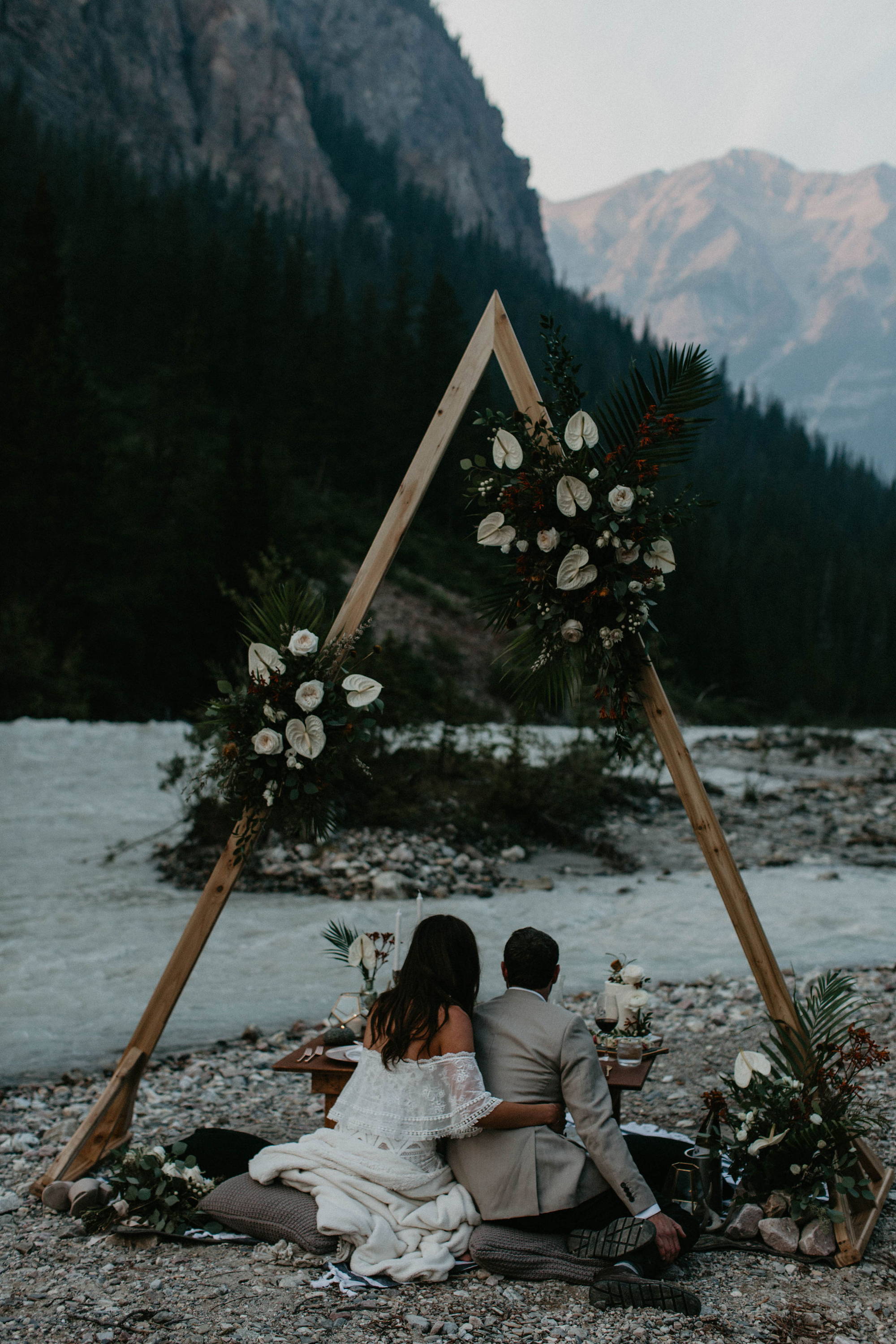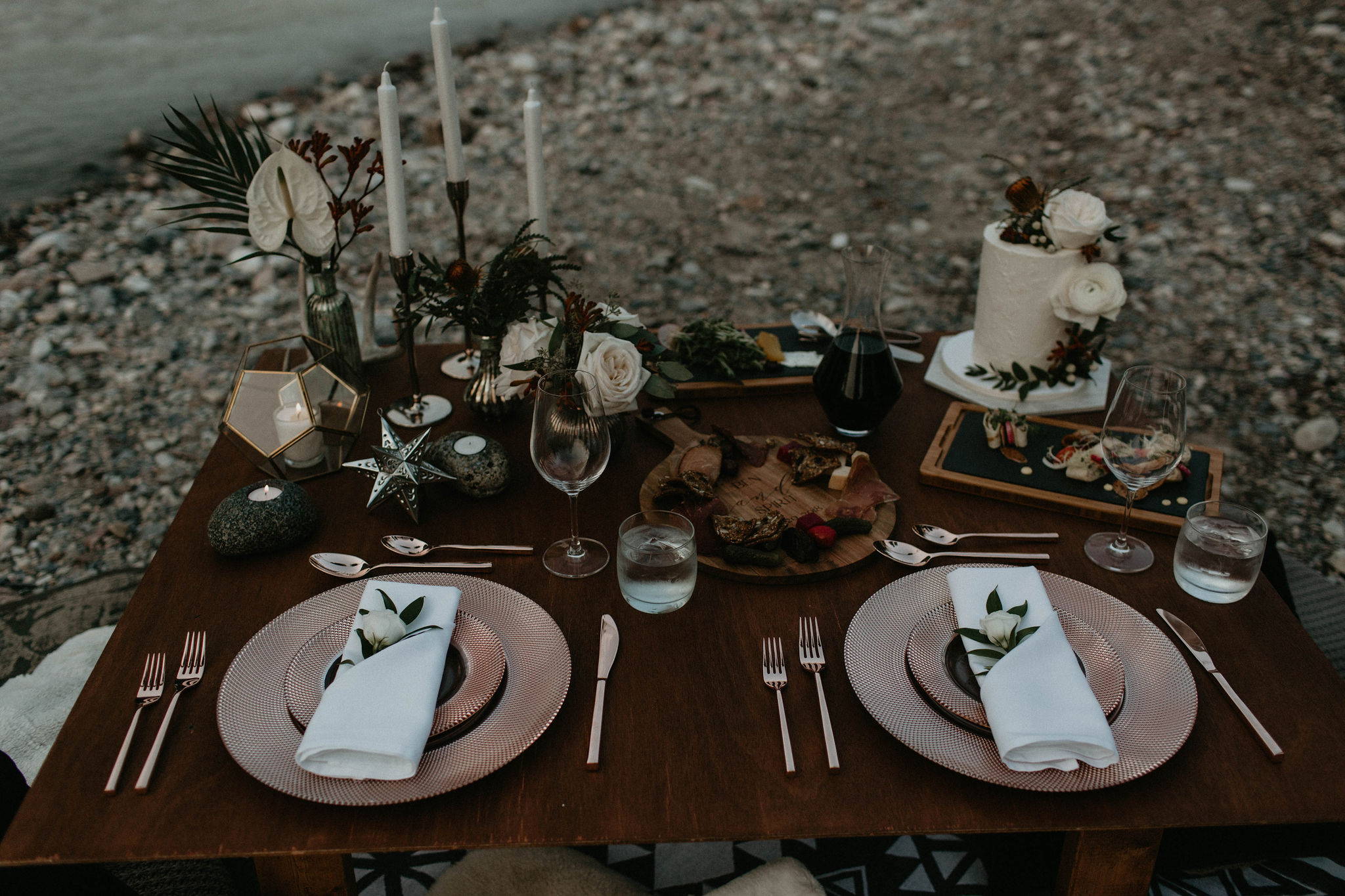 What was the most stressful part to planning?

Just before sunset, I surprised Ben with a secret dinner set up along the river for the two of us. I had a friend help me build the wood table, used my own pillows and blankets and coordinated with the lodge to have food and wine ready for our arrival. My friend/florist, Kailee from Willow Flower Co. created the most epic floral triangle and assembled it on site for our arrival. She incorporated custom floral pieces from Ben's native homeland of Australia and pulled together a stunning color palette that was the perfect combination of tropical meets mountain modern.
I was so nervous that Ben would find out, it was stressful keeping it a secret for months while I was planning it all. Thankfully, my photographers we're in on the surprise so they helped coordinate distractions on the day of. When I saw his reaction as we came around the corner, it was all worth it!
The funniest moment on the day was…
After spending the day together getting ready, Ben left our cabin so I could put my dress on. Five minutes later there was a knock at the door and one of the hotel staff had a tray with a single shot of tequila on it. He knows me so well!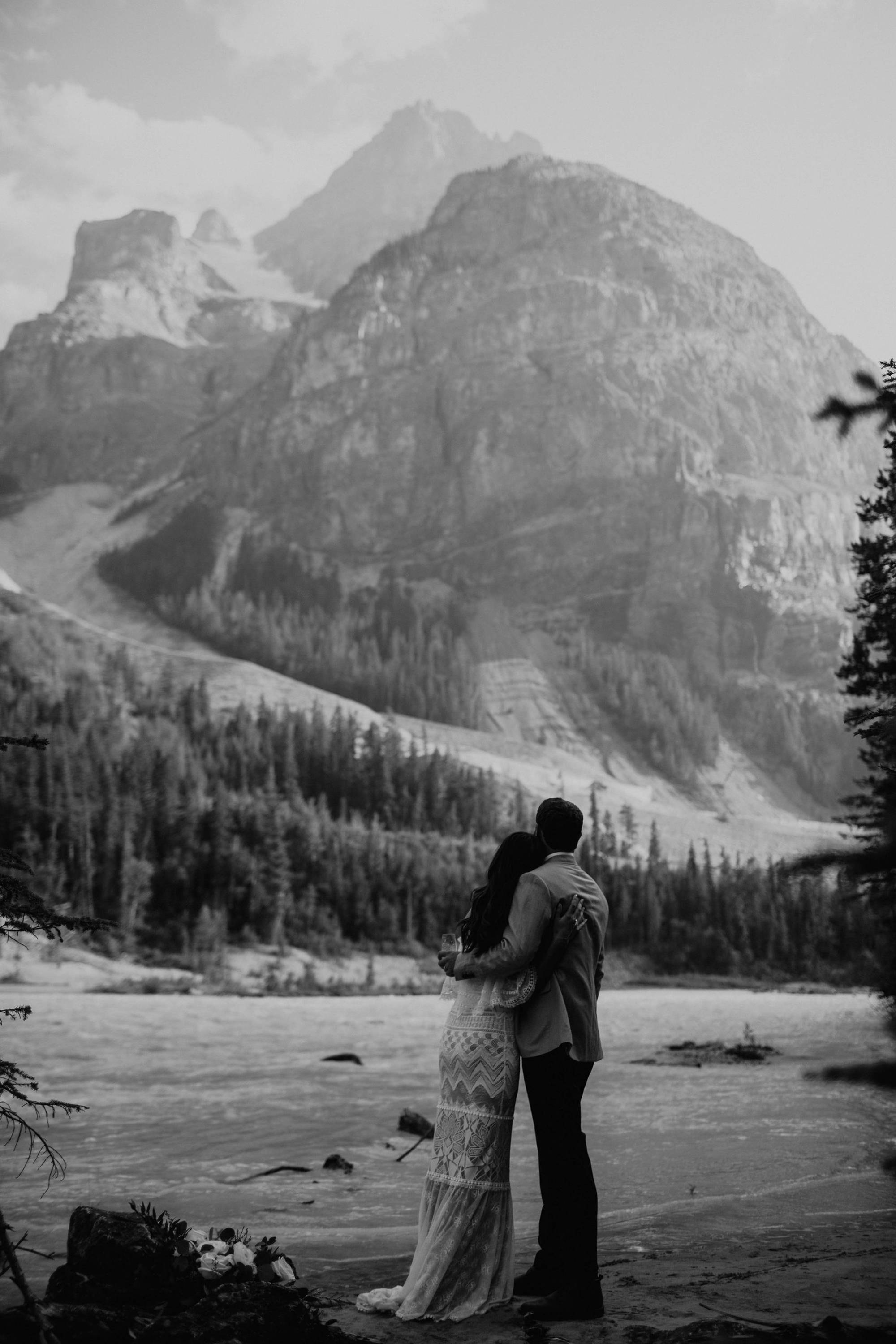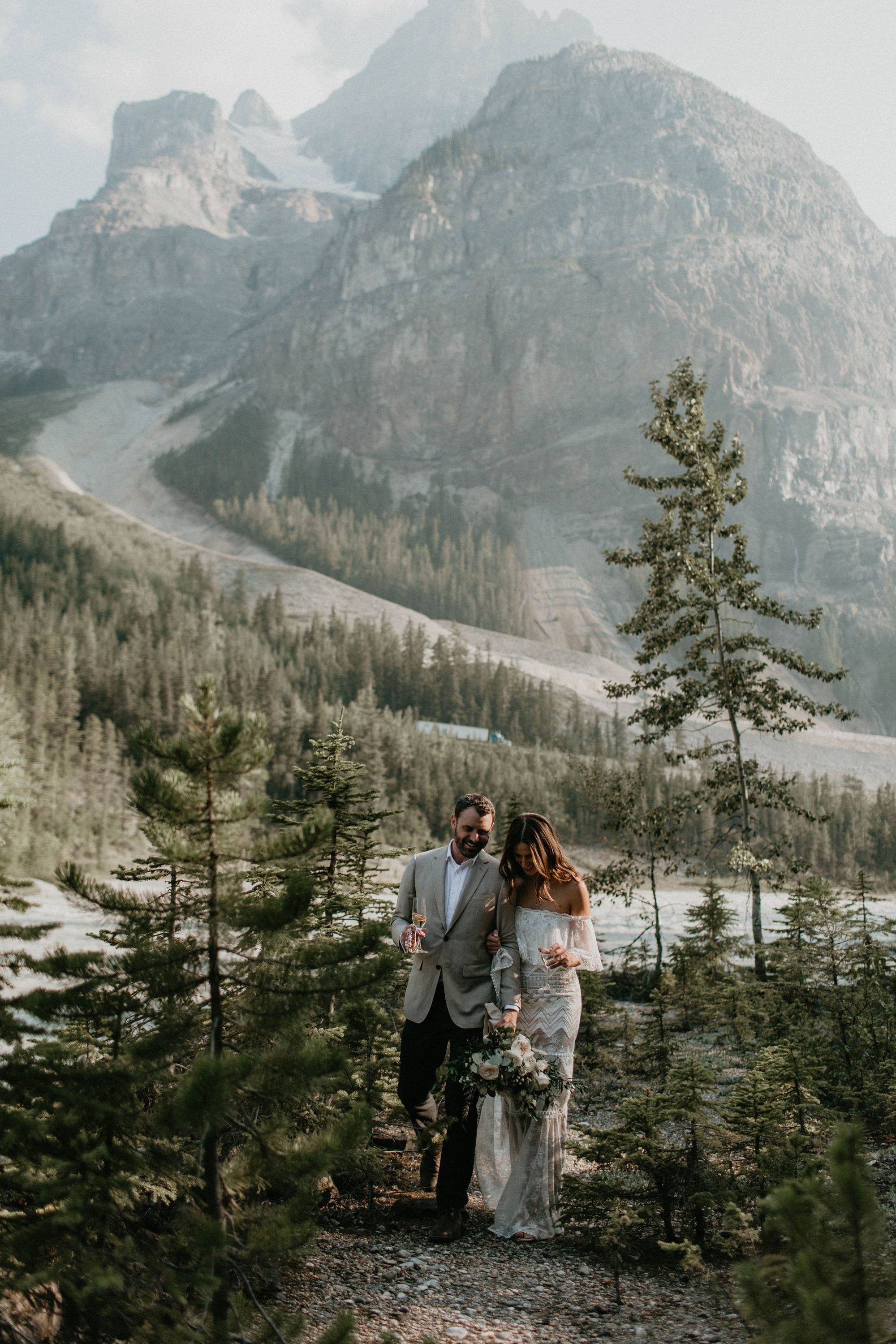 Ben popped the question at the Japanese gardens while we we're on vacation in Portland, Oregon. He was definitely more nervous about whether I would like the custom ring he designed than if I would say yes. There we're a lot of happy tears, followed shortly by me saying "I need a drink". We decided not to tell anybody we we're engaged for a few days so we could enjoy the rest of the trip to ourselves, basking in the romance and celebrating!
Any last advice or words of wisdom that you can share…
Spend as much alone time with your partner as the day allows for. I'm lucky because we eloped, but in any situation carve some time out for one another throughout the day. We went canoeing on Moraine Lake the morning of our wedding day followed by a relaxing lunch together. It was so comforting being with one another while we we're getting ready and the nerves started to creep in. Oh and champagne helps!