Steve & Jocelyn in the Paloma
A stunning terrace wedding in San Diego, followed by their romantic reception in Jocelyn parents backyard, reliving the countryside of Italy with long white tables, twinkling lights, candles and of course wine!
What is a Grace Woman to you?
A GRACE woman is someone who carries themselves so freely, yet strong willed, and poised. She moves in a beautiful simplistic way, that's what marks her being timeless because someone as graceful is rare to find. Once you find one, she shines the whole room while leaving charisma that draws one to romanticise life all over and having you write endless poetry nights of her.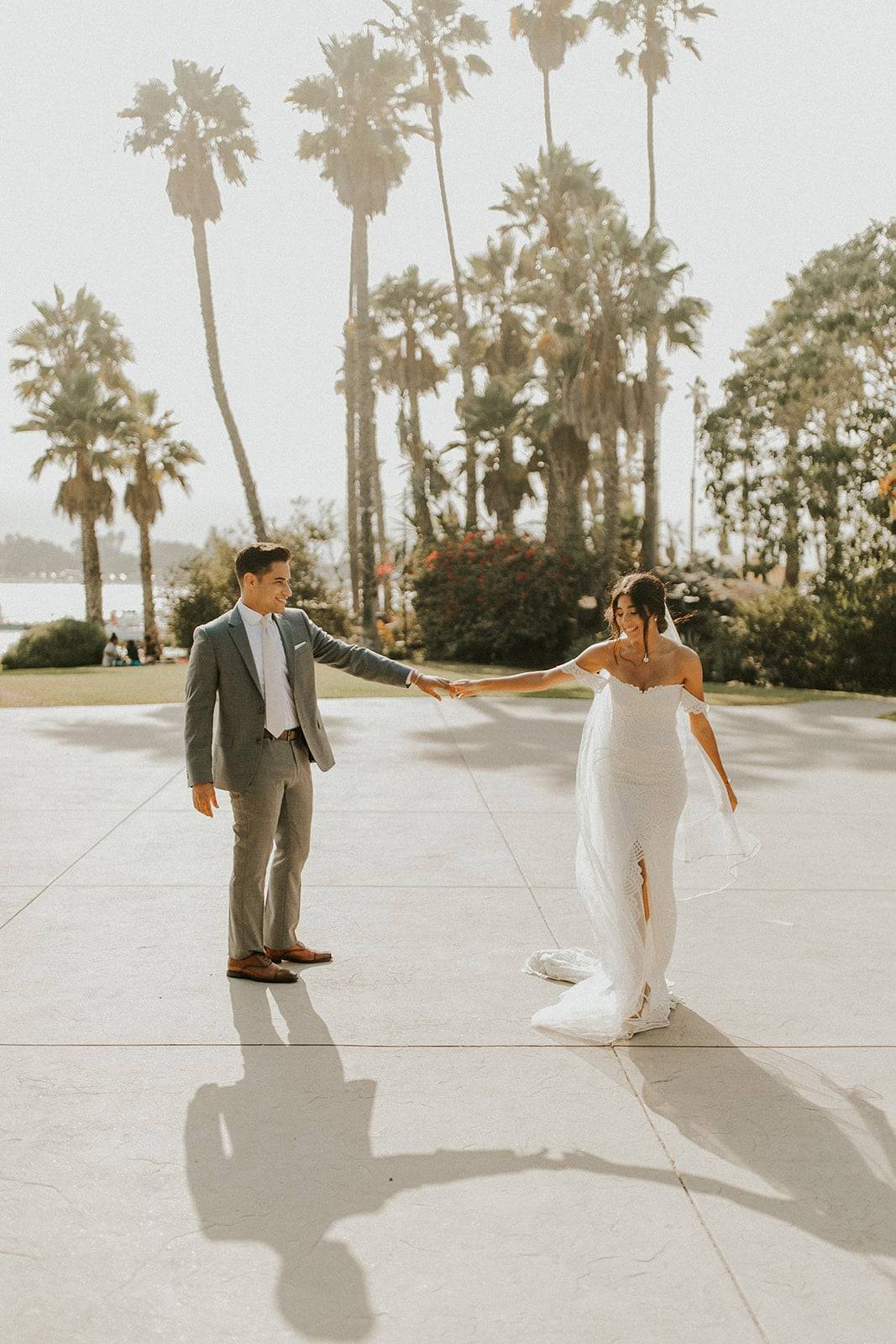 Which Grace dress did you choose and how did you know it was 'The One'?
I chose Paloma… it was one of those moments "mother knows best", I came with an open mind but she suggested this gown. Once I put The Paloma on I couldn't and didn't want to take it off. My smile lit up and my eyes twinkled. I knew I was going to buy it but wanted to calculate everything with the veil, Kinga. At that time all of my close friends were getting married, I remember one of them wanted me to try out wedding dresses with her. I couldn't say 'no' to my girl. I spoke to her about finding a dress beforehand, but the whole time going to each appointment I didn't want to try any dress! I tried one for the whole experience with her but I didn't want any other dress on me but The Paloma and THAT moment I knew I just needed to go get her. To the point even the dress consultants told me "go get your dress" and bought it first thing in the morning haha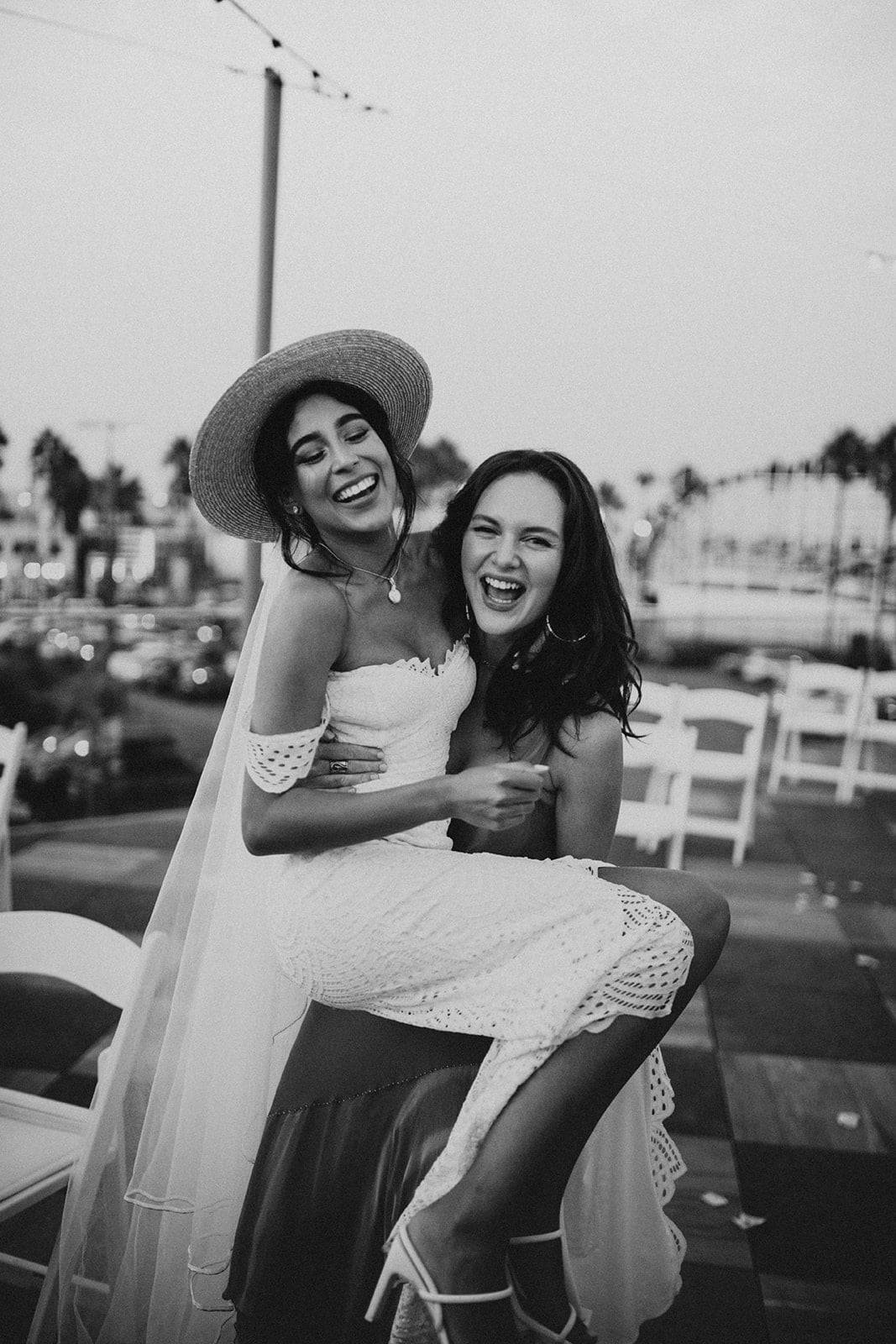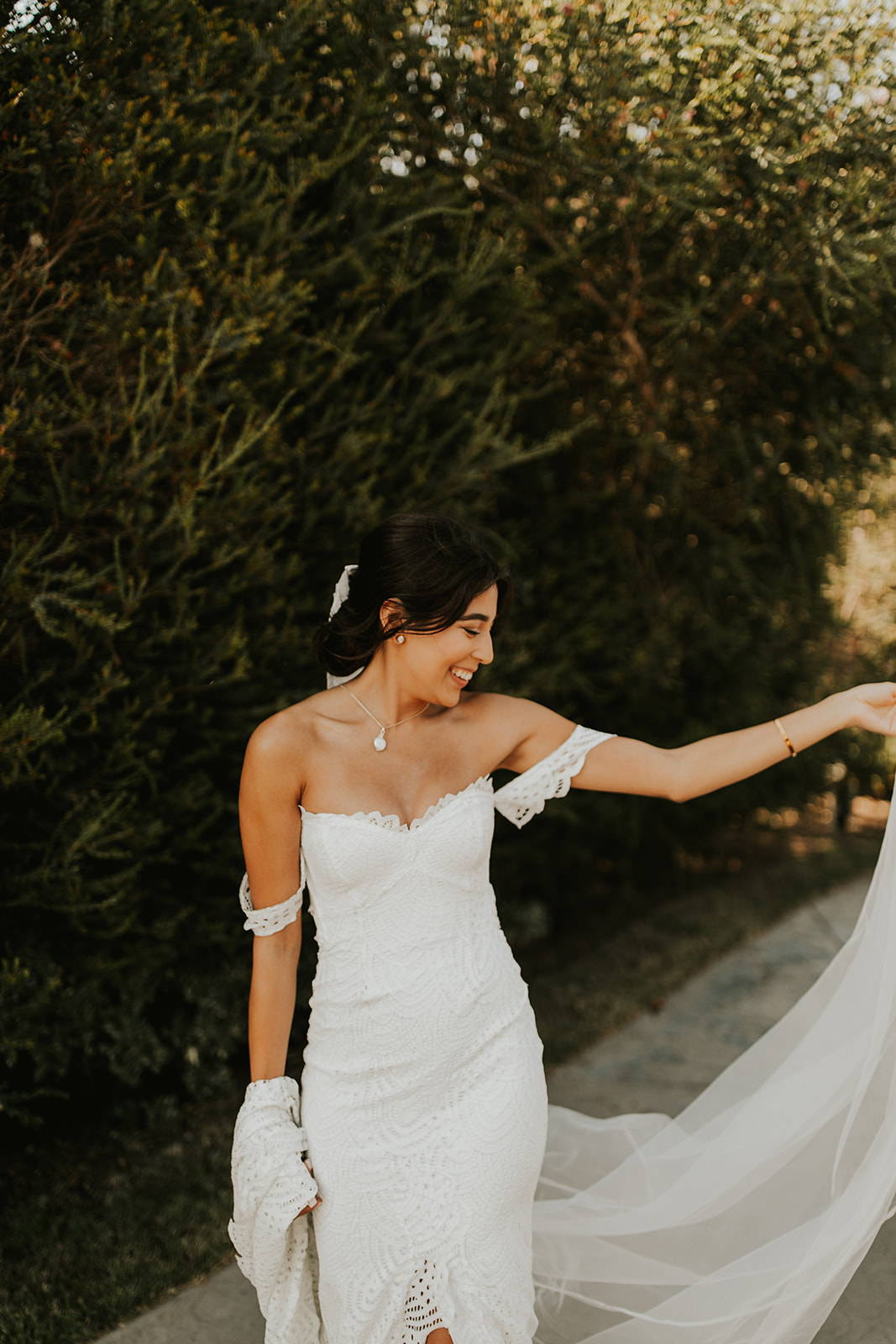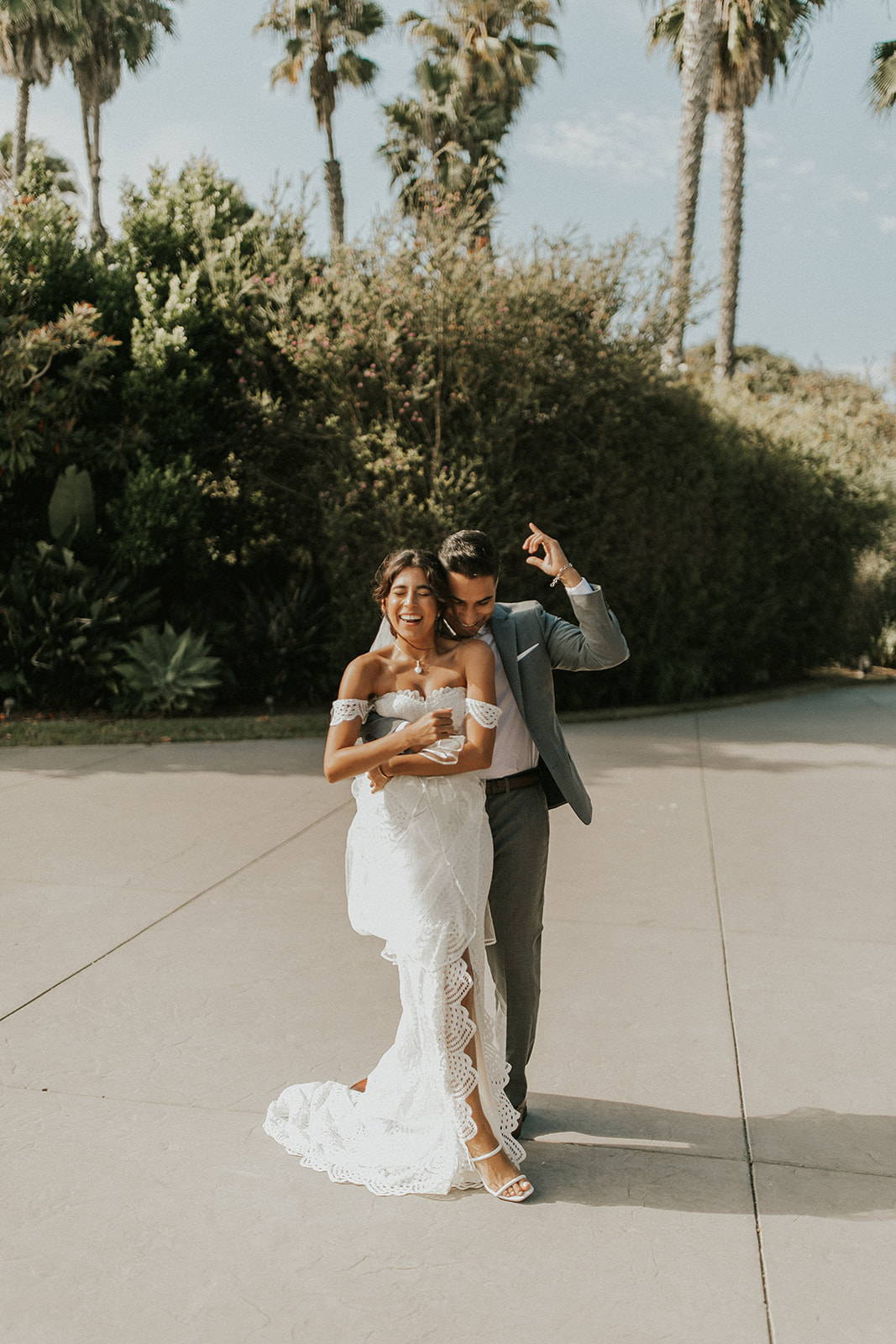 Tell us about your experience when you found your dress, did you buy your wedding dress online or in one of our showrooms?

I never been the kind of girl who fantasised her wedding at a young age, but when it was my turn to get married I would head like any other women to Pinterest! All I knew was I didn't want a traditional wedding dress, I wanted something unique, simple, yet very detailed. GLL dresses will be always calling me out, I loved the whole cultural embellishment environment they present themselves to be and the material just shows. I mentioned it to my mom saying how I would not be able to get one because they are located in Australia and would love to have the whole showroom experience instead of an online order. She said, "Just check online for a California location, you never know". I bursted with excitement when I saw they opened up a studio in San Diego AND Los Angeles just a month ago! Made an appointment, the day of the appointment I woke up calling my now husband saying, " I don't know what it is but I know I'm going to find my wedding dress today, I just know." Surely I did.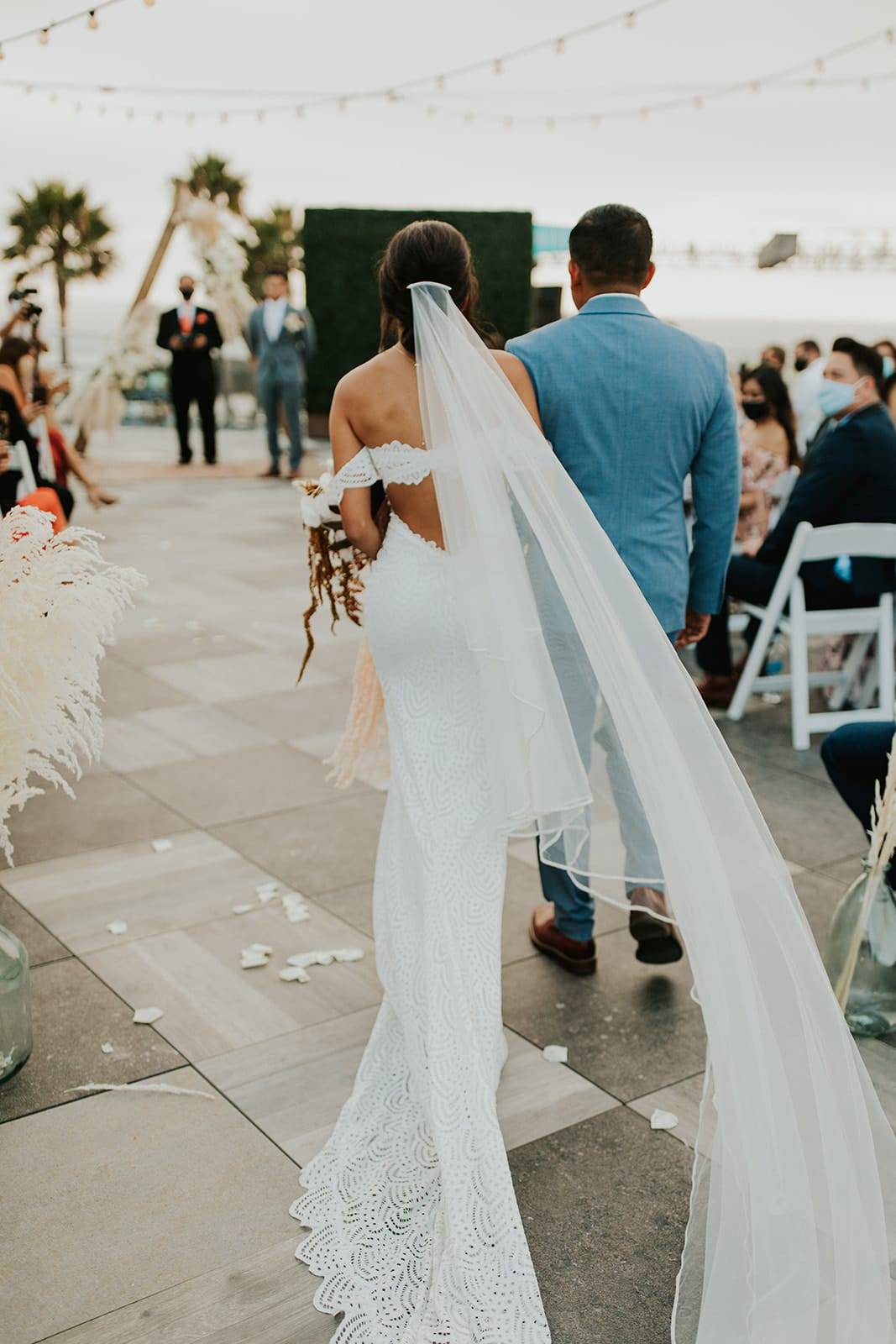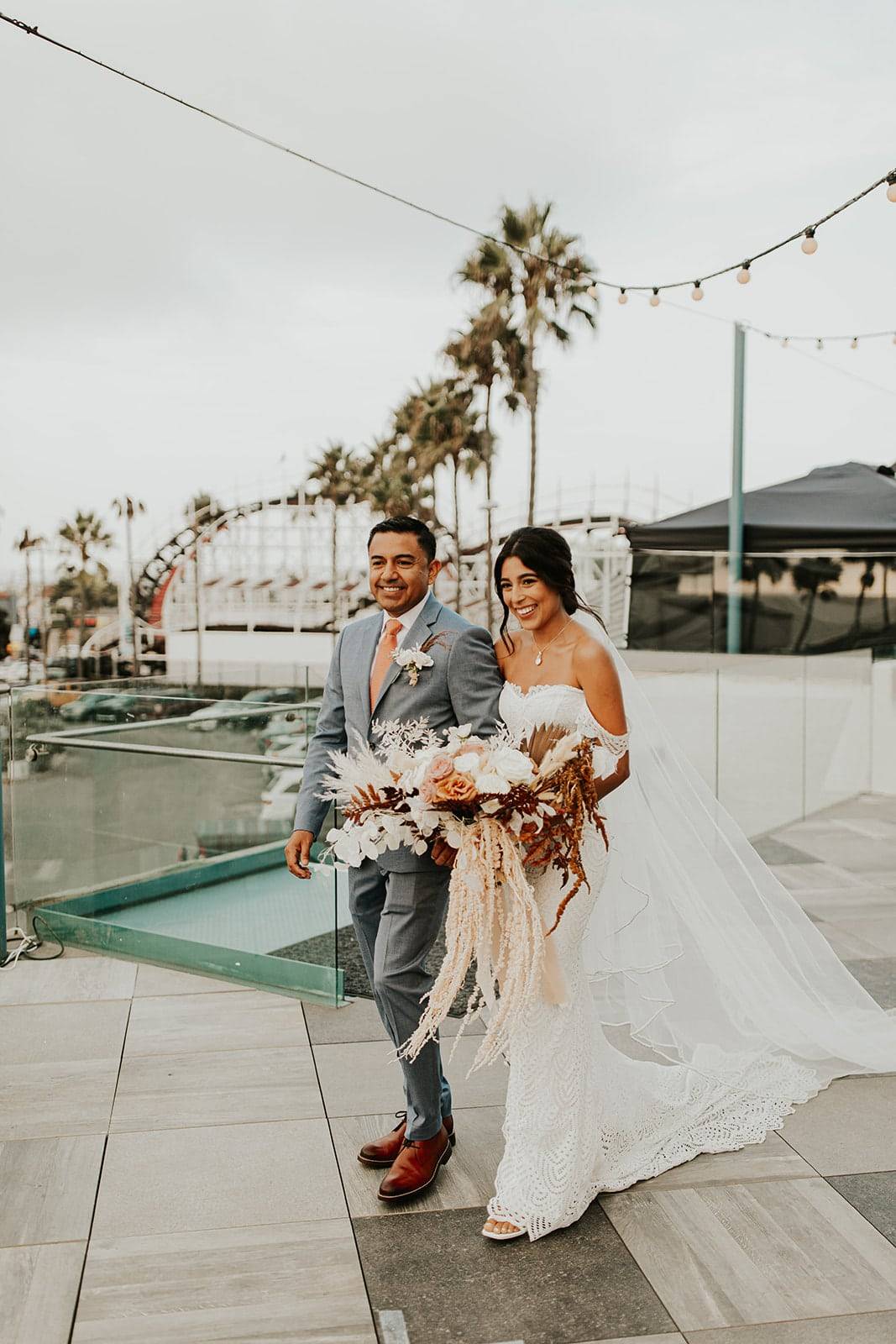 How did you feel in your dress on the day?

I felt complete… it's a feeling like I can accomplish anything heading towards my wedding date. Nothing so much mattered to me if I only had the dress well fitted for me. That was the point of feeling so empowering from taking this next chapter in my life with this beautiful gown that was crafted just for me. Since the beginning of the pandemic, GLL production responded quickly and helped me through every detail or question I had for the final fitting.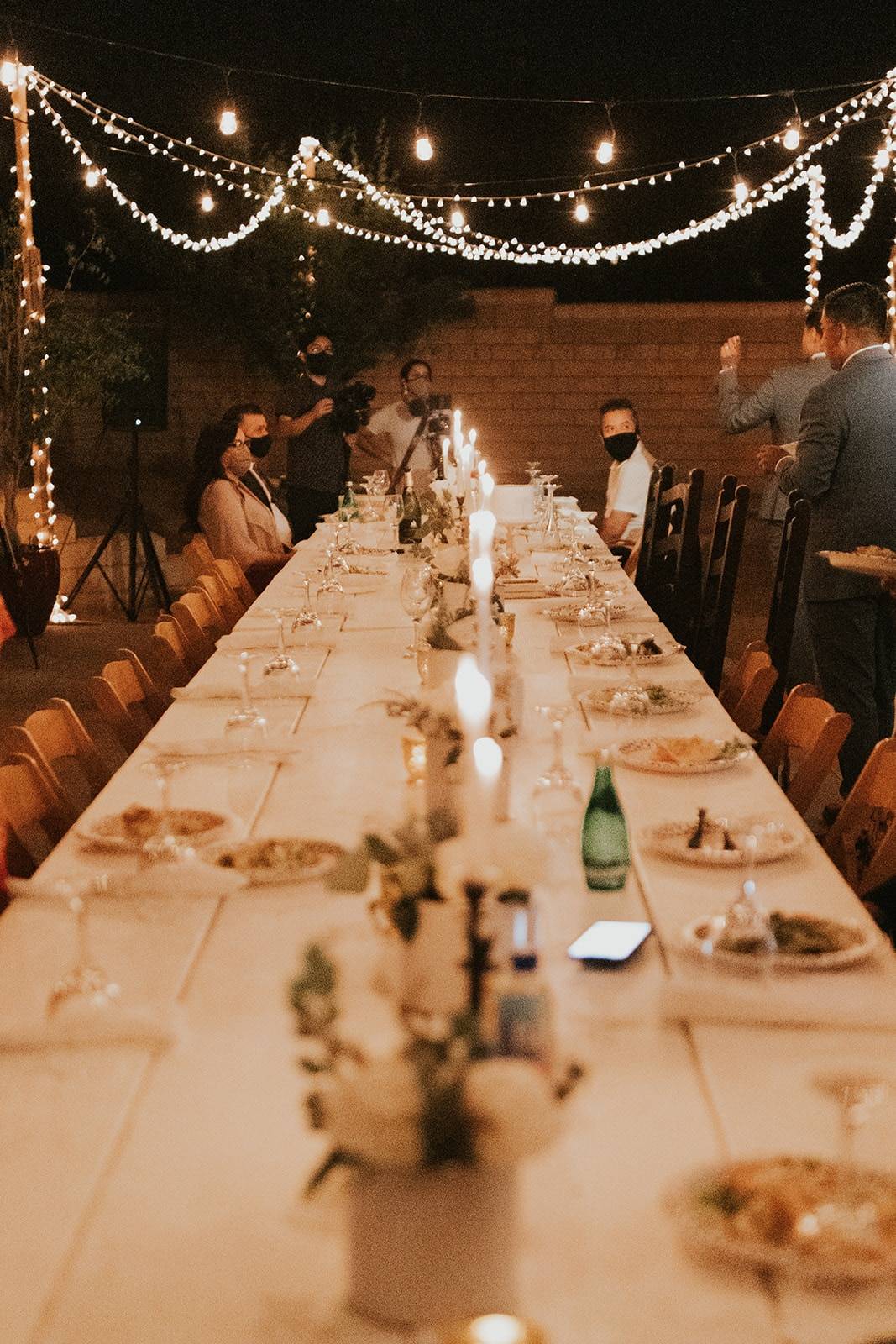 Where did you get married? Tell us about the location & the style of your wedding day.

We got married at Belmont Park, San Diego. It was on a terrace over looking the beach, it was the best background for us. The location was so open yet so reserved for our special day. Our style for our ceremony was whimsical, free spirited & bohemian chic. For our reception dinner, it was more of a feeling we wanted to bring out, reliving the countryside of Italy. We drove back to Temecula at my parents backyard. We set white long tables with a romantic touch of twinkling lights, we had an intimate dinner of only 20 family members, we had candles, lots of flowers, wine, with some few rugs placed on the side to be our dance floor. While our first dance was bare foot, including with our parent dances and a projector screen hung to watch our never before seen engagement video, all underneath the summer night breeze while the stars were shining bright with the smiles on everyone's face. Like if I was living in an artistic Parisian film.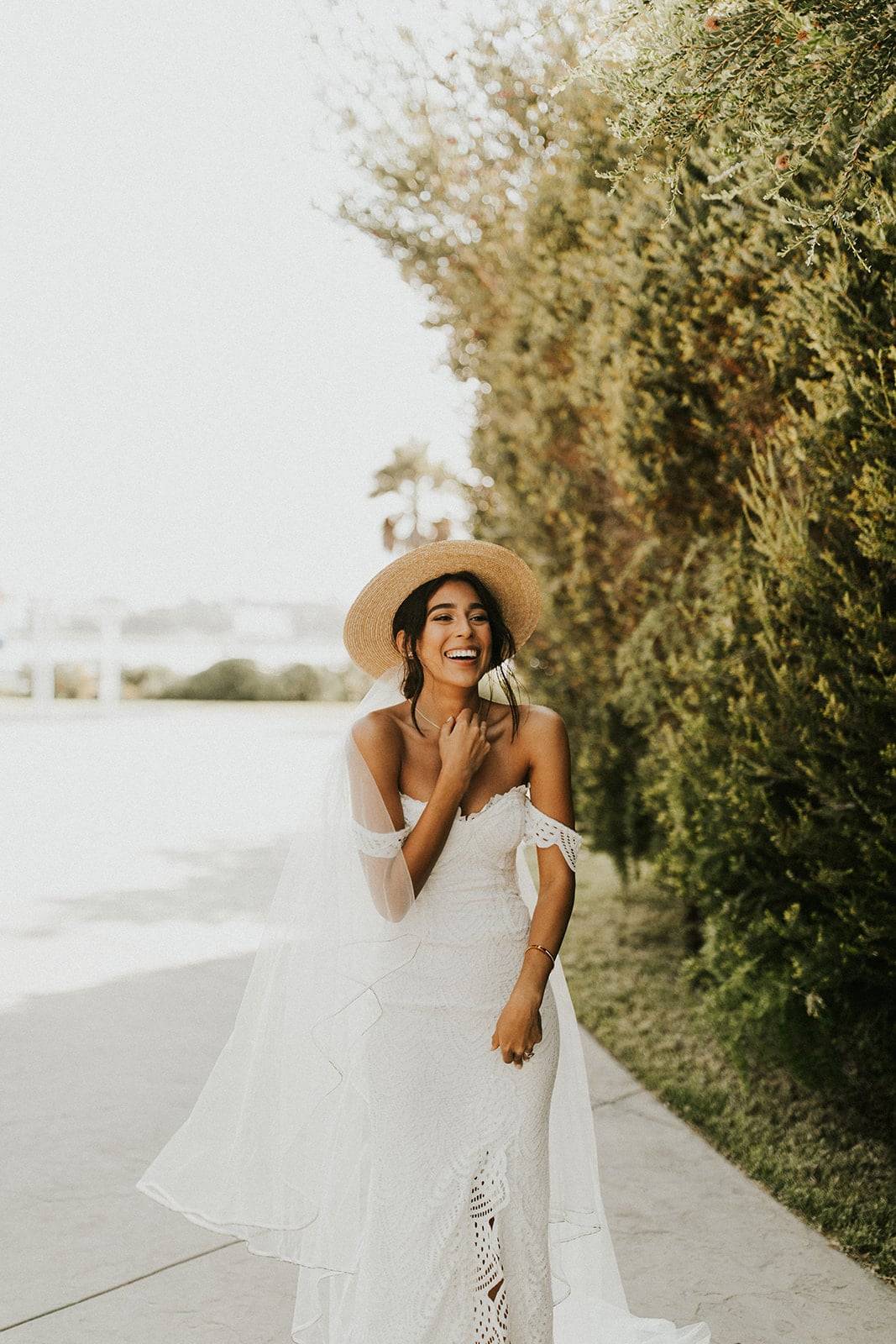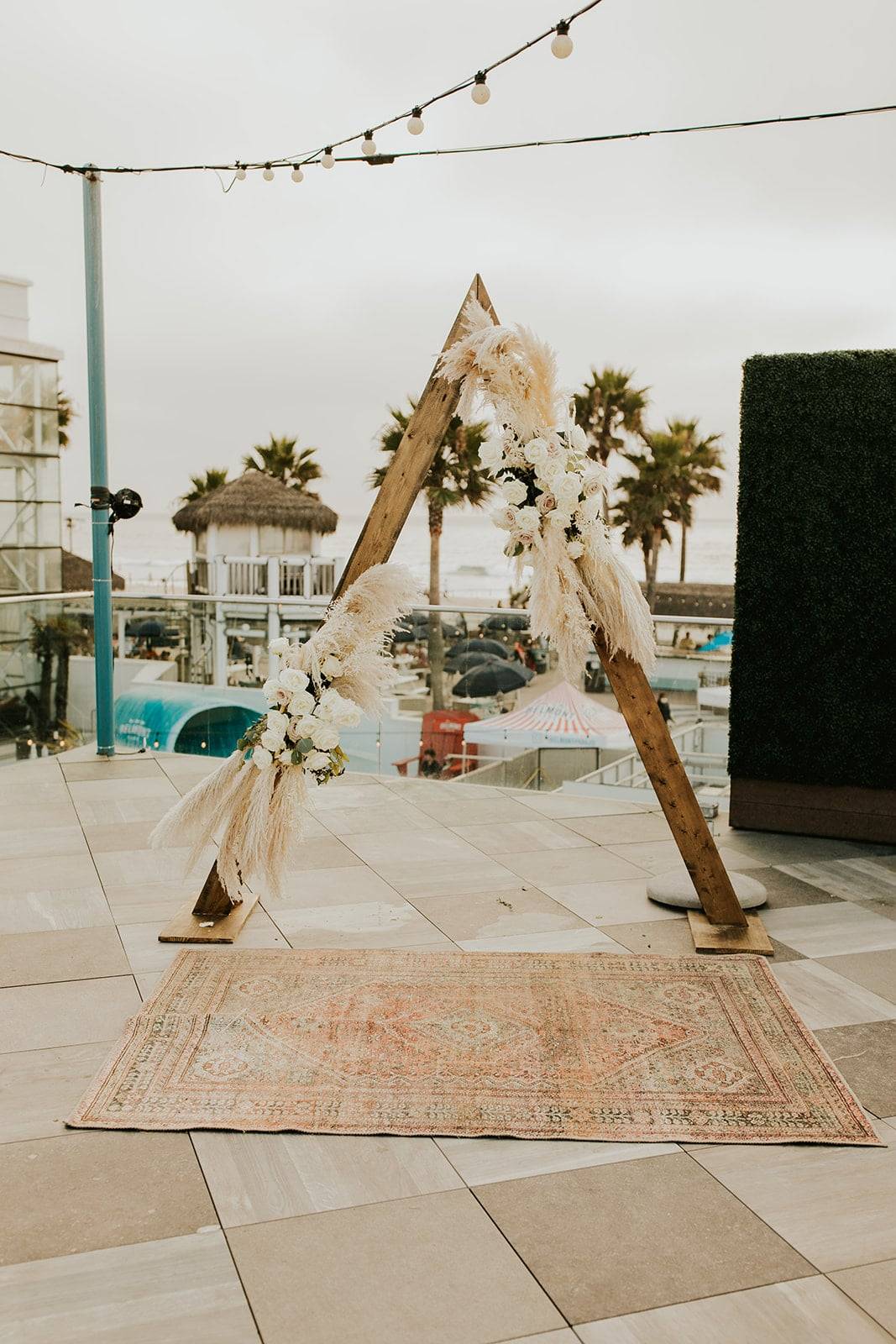 Tell us about your hair and makeup look and the accessories you chose...

I wanted my hair away from my face and yet little strands out for an effortless look. I knew I wanted to look like a bride from my makeup. I wanted glowy skin but have my eyelashes and eyebrows be the main effect. I don't use heavy makeup, I always thought, less is more and learned healthy skin is the best route to go. With accessories, I chose a pearl necklace that marked a statement piece for me that brought the whole look together with elegance. I haven't felt more beautiful in my life from feeling so confident of who I was with my choice.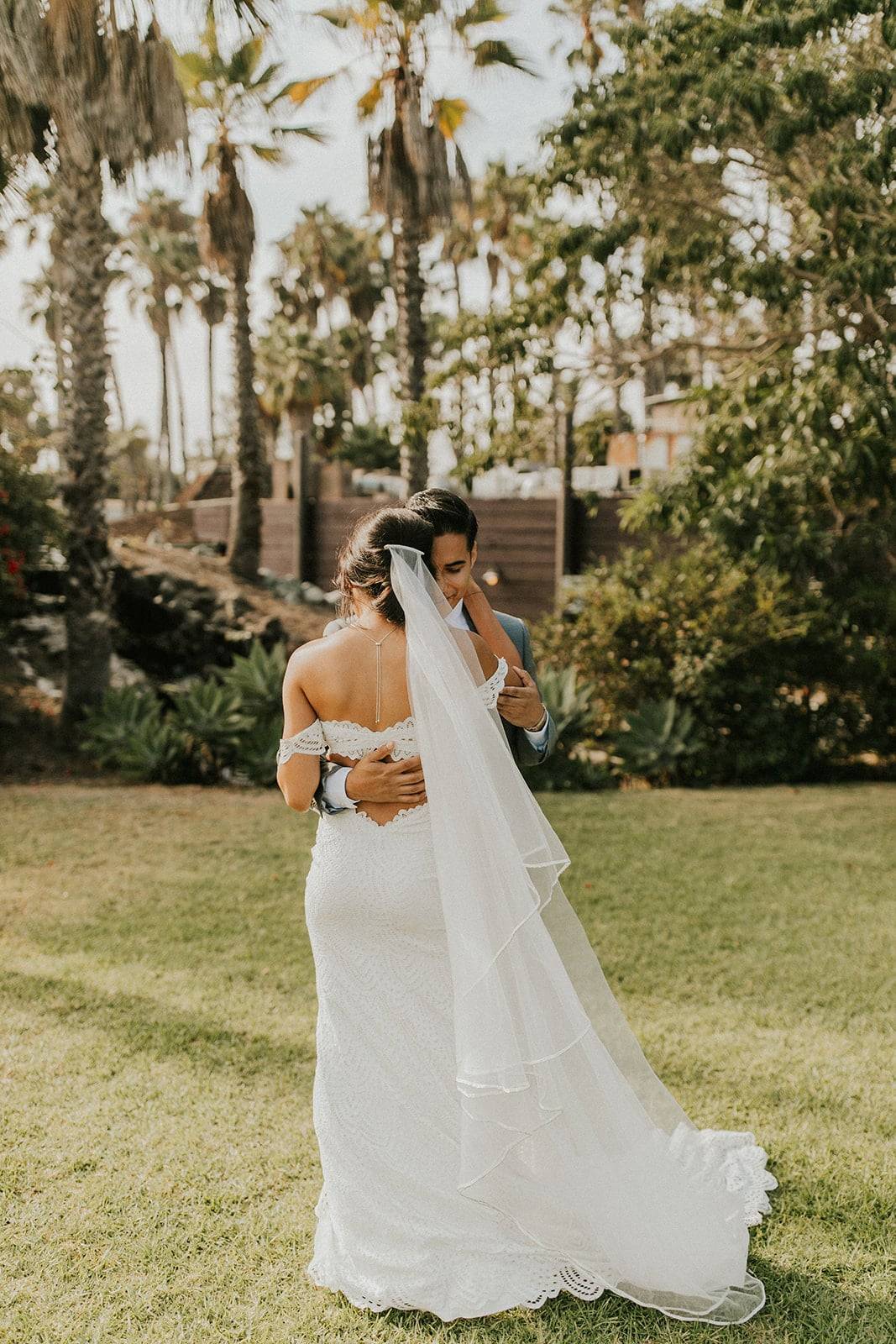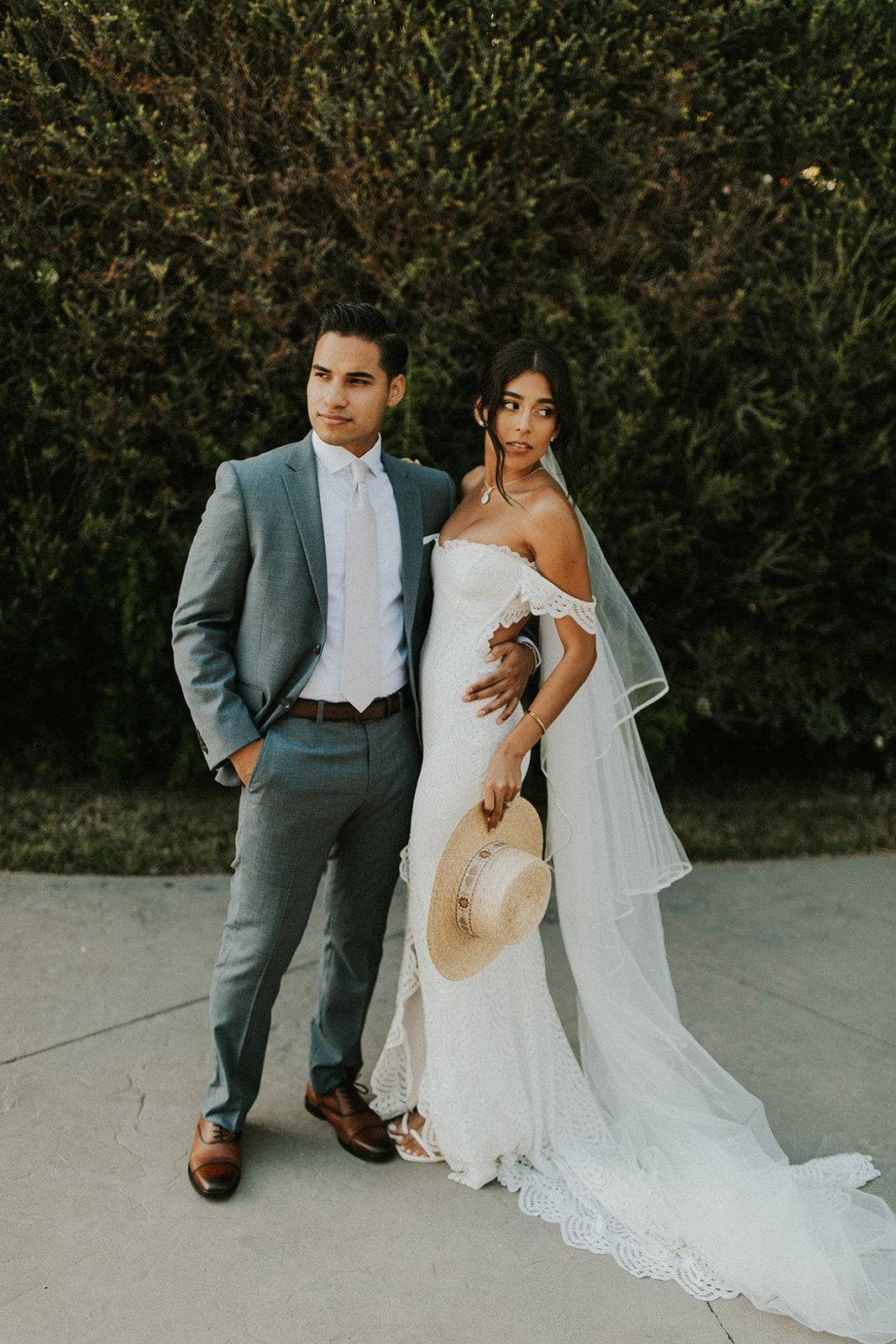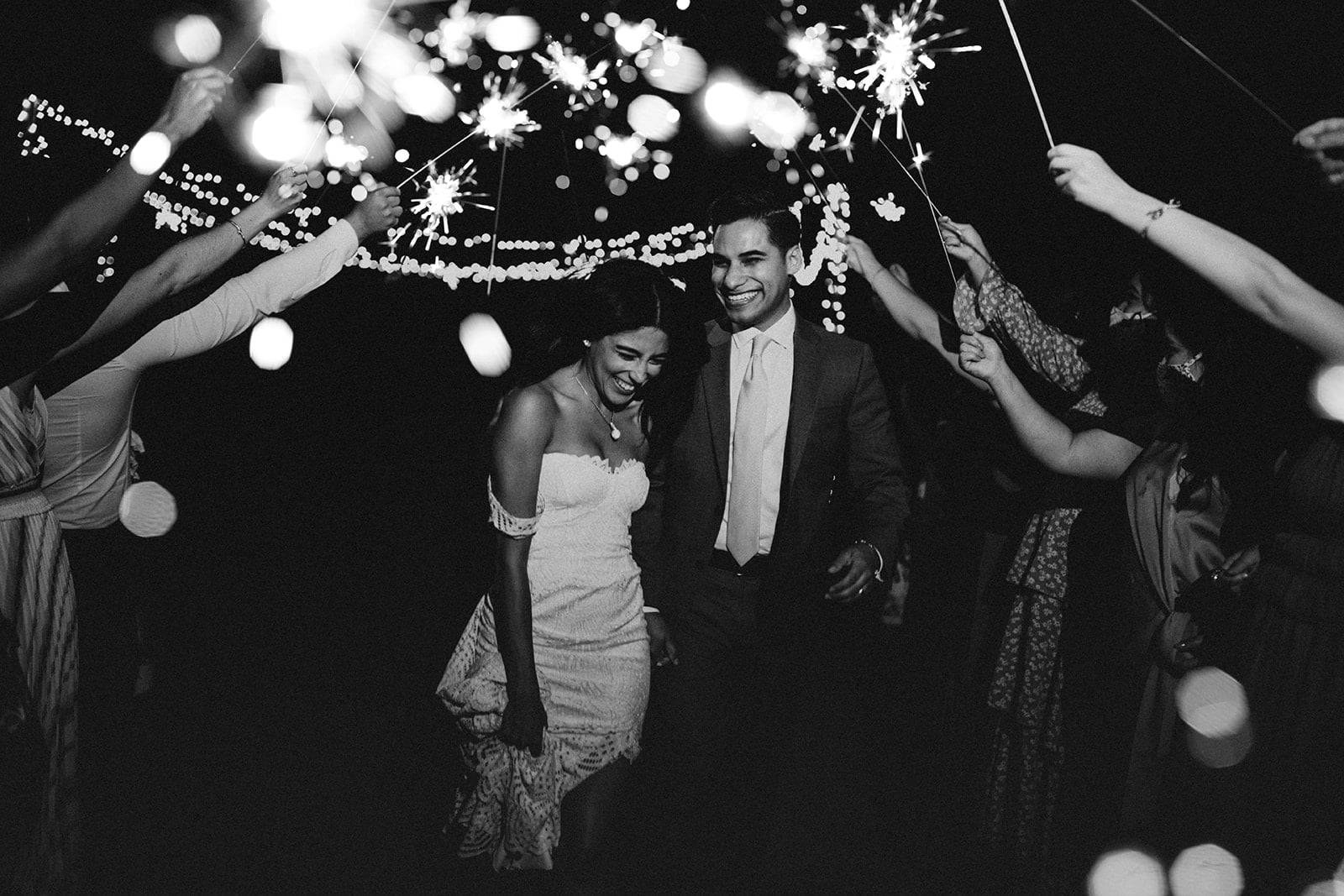 What made your day extra special?

To know we chose love despite COVID, for me we made history and more of a story to cherish with our intimate wedding. To know we made it work! At the end of the day, marrying my husband was a dream, it ended up being the wedding we never knew we wanted. I felt every moment of it, which is all I can ever ask for … to be present.
The funniest moment on the day was…
I can't pinpoint one exactly, perhaps our first look with being alone all freely, joking and having fun with each other. Especially when he sees your reaction and not knowing what to expect, teasing him to not look.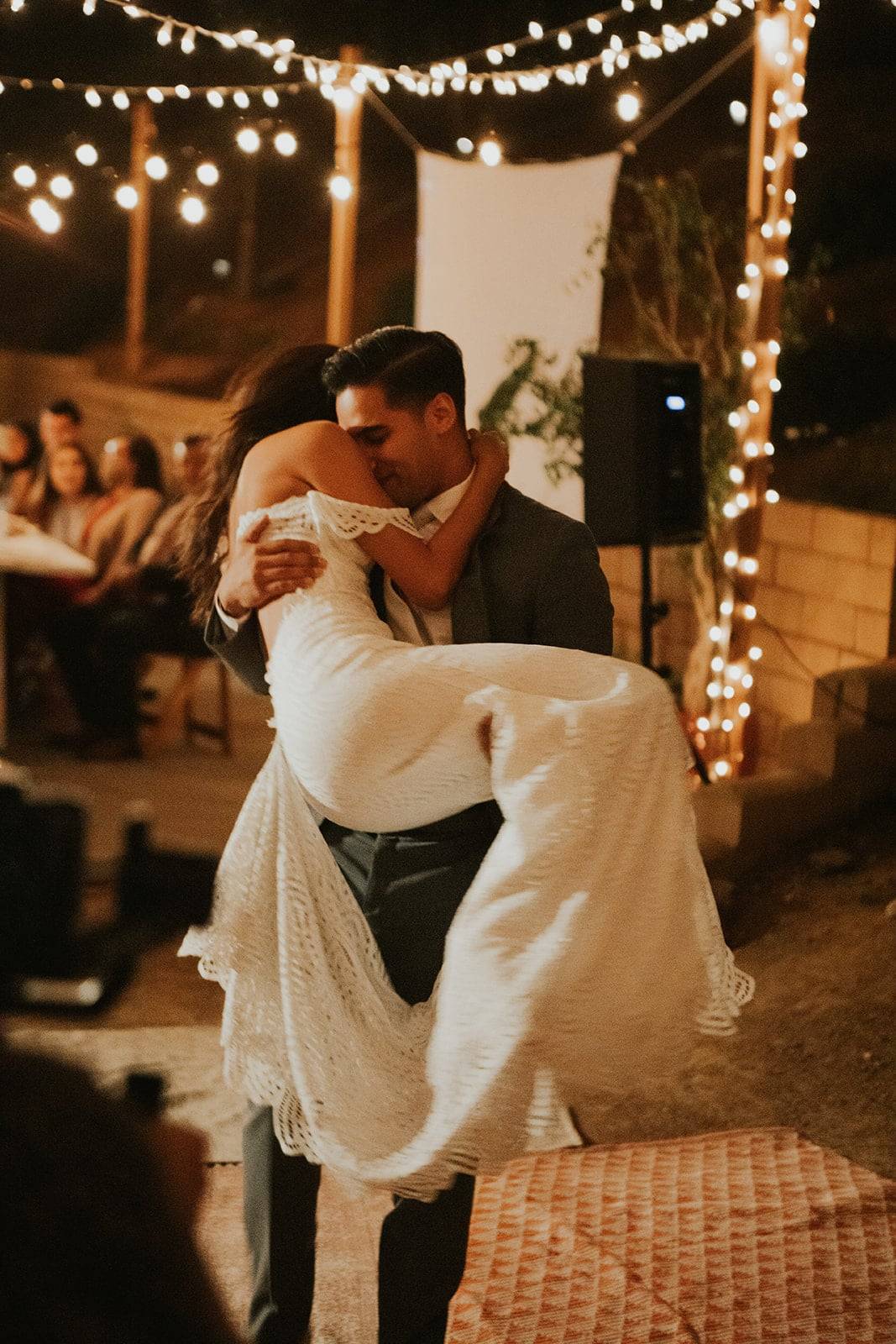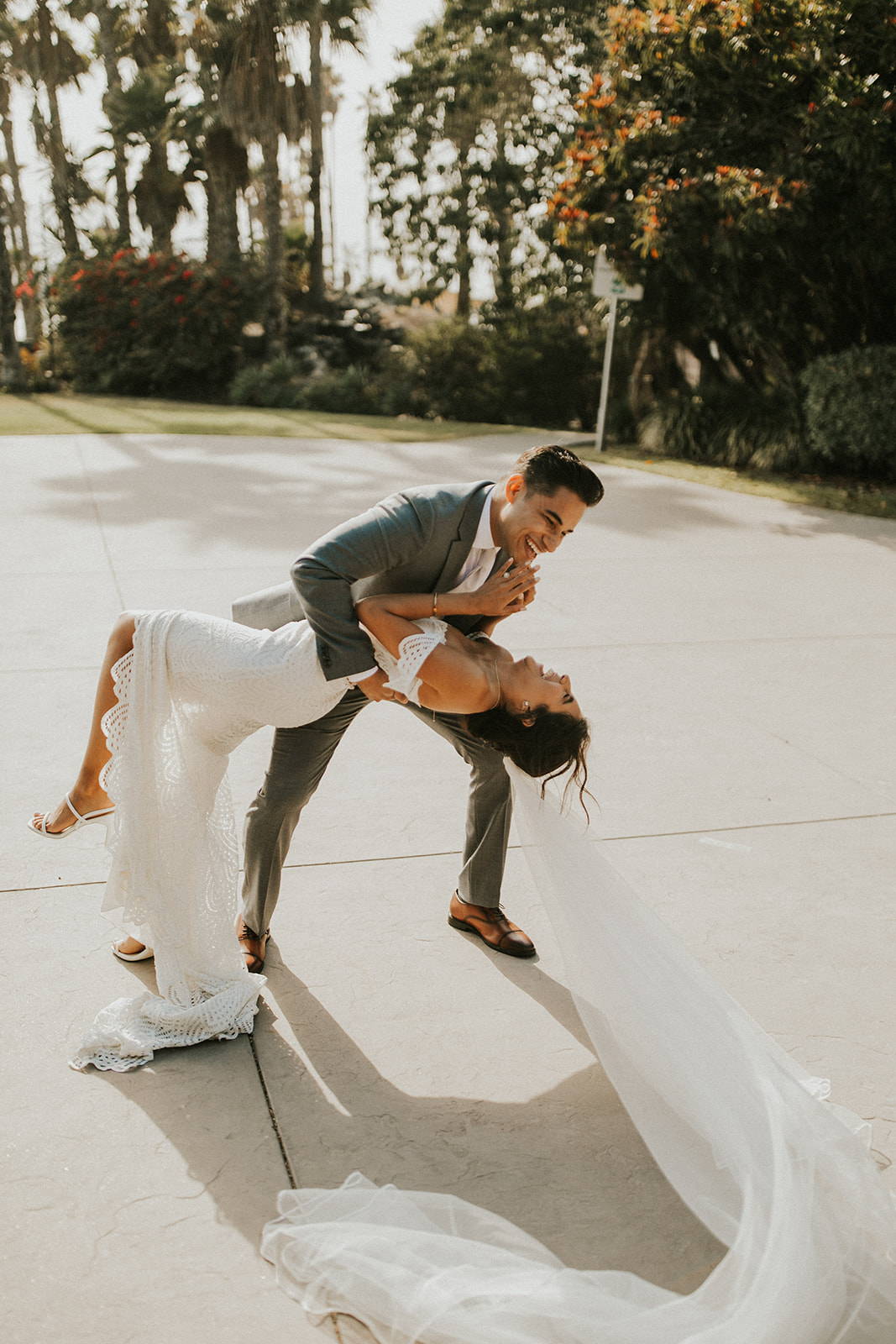 Where will you be honeymooning?

Our original flying plans got canceled but it didn't stop us having a honeymoon. We headed up the coast to Santa Cruz! We stopped at different locations to stay like Pismo Beach, Santa Barbra, and Ventura, ending it driving down Big Sur. This road trip was much needed for us and really got us to appreciate our state home all over again.
Any last advice of words of wisdom that you can share with future GRACE brides...
My three things were for my wedding to be outside, lots of flowers and long white tables. When you get stressed or overwhelmed remind yourself who you are so you won't doubt on yourself so easily, take this opportunity to mark who you are and really want. Any other fall out leading to your wedding day, pick yourself up gracefully and laugh when something ends wrong because when you walk down that aisle the only thing that gives you empowerment is THE dress and meeting your person at the end of it all. OH! And make alone-time happen for you two, even if it's just 5 minutes sometime before or after the ceremony.



THE GROOM WORE: Tommy Hilfiger suit & Calvin Klein Shirt/Tie
VENUE: Belmont Coaster Room and Terrace
MAKE UP STYLIST:My personal hairstylist and number one cosmetologist, my mom.